St. Tropez Self Tan Express Bronzing Mousse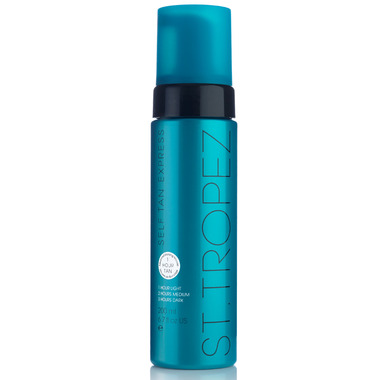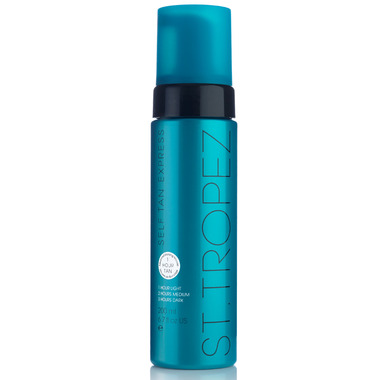 St. Tropez Self Tan Express Bronzing Mousse
St. Tropez Self Tan Express Bronzing Mousse is their most advanced no-fuss formula yet! For a light sunkissed glow in just 1 hour or leave on for up to 3 hours for a deep, dark bronze.
Features:
Tan, shower and go in as little as 1 hour
Absorbs quickly
Customize tan
Enhance all skin tones
Directions: Pump the mousse onto the Applicator Mitt and apply in light sweeping motions, starting from your legs and working your way up. Once the whole body is covered, wait until touch dry before getting dressed.

Wait 1, 2 or 3 hours depending on your desired shade, then rinse off the tinted guide colour with warm water only. After showering, skin will have a light colour but the self tan actives will continue to work for up to 8 hours, developing and deepening into your chosen shade of tan that lasts for days.

Customize your tan by choosing when to shower:

1 Hour Development = Healthy Glow
2 Hours Development = Golden Bronze
3 Hours Development = Dark Tan
Robin:
a few months ago
I use this with the mitt and it goes on perfectly. I am a 001 Fair in Vichy - very pale. I wash this off after 2 hours and the color is beautiful. I have never had trouble getting this on smoothly. It is as 'fake looking' as any other tanner - but the choice to wash it off at the 2 or 3 hour mark makes it worth every penny. The color difference is looking like I am healthy and looking like I have on tanner is that 1 hour given how pale I am. The bottle has a lot of product in it and lasts a very decent amount of time so really view the price as 3 bottles of any other product. I did fall asleep with this on once and woke up looking very tanned (for me) I imagine if you were medium/olive skin this would develop into a very nice color after 4 hours. I am on my 2nd bottle and will buy it again. Very happy.
claudia:
more than a year ago
I hate sunless tanners BUT I really have no choice since I do not tan anymore, yet I still want that healthy glow. I've tried many sunless tanners and my biggest beef is the lingering smell. St. Tripe makes one of the best in regards to colour and smell. I have both the dark bronzer and the express. Both are fantastic. What I love about this one is I only have to wear it for a couple of hours and then I can wash it off. And even though you've washed it of it continues to work. The colouring is very natural . Expensive but worth it.
Page
1