Stash
Stash Christmas Morning Black Tea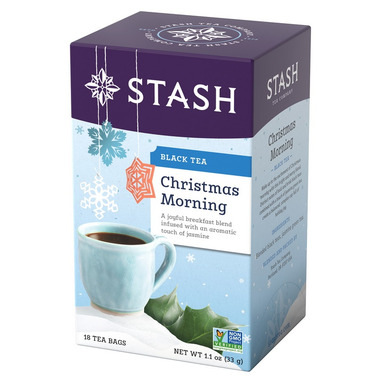 Stash
Stash Christmas Morning Black Tea
18 Count
Stash Christmas Morning Black Tea
is rated out of
5
by
26
.
---
Description
A joyful breakfast blend infused with an aromatic touch of jasmine.

Features:
Ingredients:
Blended black teas, jasmine green tea.

Directions:
3-5 minutes at 190-209 degrees Fahrenheit.
Highlights

Shipping & Returns
Rated

3

out of

5
by
Kay
from
This is not the same tea I fell in love with last year (my review below). I ordered it as soon as it was available this year and Stash has changed the recipe (and the box design). I couldn't figure out why it was that I wasn't enjoying it until I was at a friend's place and she had an older box. One of the teas in the blend, the "Sumatra" tea, has been removed. So this is really not the same tea. It's not bad but it lost something it used to have. I think I need to try Sumatra tea on it's own.
Date published: 2013-01-12
Rated

5

out of

5
by
Ellen
from
I tried this tea on a whim and am so glad I did. It's robust, smooth and not the least bit bitter. It's now my go-to tea and I enjoy a cup straight up without milk or sugar every morning on my commute to work. It is however, impossible to find in stores(maybe because it has a seasonal name?), so I'll be stocking up on more the next time they are on sale. Very glad to have found it.
Date published: 2016-04-20
Rated

5

out of

5
by
Chris
from
Lovely black tea, comparable to a nice English Breakfast (but nicer) - great with steamed milk. Makes a great Christmas gift to the tea drinkers that you love. I order lots of it and keep it on hand all year. The tag on the bag says "cup of joy" and that's just what it is! Favourite!!
Date published: 2012-12-12
Rated

5

out of

5
by
Danielle
from
I love this tea. I tried it two Christmases ago and searched stores high and low this year and was disapointed to not find any. I thought maybe it got discontinued until I saw it here. It's a dark tea so a bit strong for some people but I think it's just right with some cream and a bit of sweetener. I like the extra "texture" that the oolong gives to the taste of the tea and jasmine gives it a nice little flowery/sweet twist.
Date published: 2011-02-22
Rated

5

out of

5
by
Marianne
from
This is a must try tea if you are a tea drinker. It is a smooth, non bitter, non acidic blend with incredible robust flavour. I have tried it with milk, but I prefer to drop in a dab of honey which really pulls out the richness of this tea. I just received my second order of 5 boxes from well.ca and the price is great and shipping is super quick. So glad I found well.ca!!
Date published: 2016-10-05
Rated

4

out of

5
by
Jamie
from
A lovely black tea, really nice and smooth, I'm actually drinking a cup right now! Would make a nice addition to someone's stocking. I guess I didn't read the label properly as I was expecting more of a chai-style tea with cinnamon etc. This is really just a nice black tea in a lovely box, but the tea itself isn't Christmas-related.
Date published: 2011-12-15
Rated

5

out of

5
by
Kay
from
This is such a nice, fragrant blend of tea. I am normally an orange pekoe drinker and this is NOT the same thing at all. This is like my exotic alternative. But still a 'real' tea, if you know what I mean. The texture is so smooth. So glad to find it here! There is nothing 'Christmassy' about it, in my opinion.
Date published: 2011-06-29
Rated

5

out of

5
by
Nyne
from
This is my favorite tea; I used to buy it directly from stash online since it's a "seasonal" tea but I'm so glad well.ca stocks it year round too! The blend of black and green teas is perfect, rich yet not bitter and pairs wonderfully with cream. Highly recommended for all tea lovers!
Date published: 2017-10-28