Stash
Stash Earl Grey Decaf Tea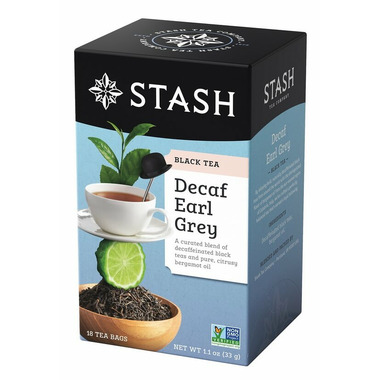 Stash
Stash Earl Grey Decaf Tea
18 Count
Stash Earl Grey Decaf Tea
is rated out of
5
by
32
.
---
Description
By infusing bold, naturally decaffeinated black teas from around the world with the distinguished flavour of bergamot oil from the sun-soaked region of Calabria, Italy, they've crafted a perfectly balanced tea that's earned a loyal following.
Decaffeinated
Ingredients: Decaffeinated black teas, bergamot oil.
Highlights

Shipping & Returns
Rated

4

out of

5
by
Letitsha
from
absolutely love earl grey decaf tea...im able to drink it late and doesn't affect my sleep time much, also i find i use less sugar compared to other teas with caffeine in it. but for 18 tea bags, is a little priicey...
Date published: 2018-03-31
Rated

3

out of

5
by
Jennifer
from
I found this tea to have a very odd taste, not a true earl. I know it is not easy when it comes to decaf, and possibly it could just be my own sense of taste. Unfortunately, it's just not suited for me.
Date published: 2014-10-22
Rated

5

out of

5
by
Tatsiana
from
I'm extremely happy with purchasing it. I cant have a caffeinated tea and decaf ones usually have weak taste. This one tastes just like regular tea, i can finally enjoy my cup of tea before i go to bed
Date published: 2014-01-02
Rated

5

out of

5
by
Craig
from
I was searching for naturally decaffeinated Earl Grey and Stash is without doubt the best I've tasted. It's difficult to find in stores but Well.ca is competively priced and delivers promptly.
Date published: 2011-08-26
Rated

5

out of

5
by
Estherius
from
I'm obsessed with the taste of earl Grey but cannot drink too much caffeine. Most decaf drinks taste a bit bitter, but this is so nice. This tea makes me think I'm drinking it caffeinated.
Date published: 2021-03-11
Rated

5

out of

5
by
Elise
from
Stash Decaf Earl Grey is one of the nicest Earl Grey teas (decaf and regular) that I have had. I try to limit my caffeine, so it is nice to find such a good decaf option. Yummy!
Date published: 2016-10-13
Rated

5

out of

5
by
Wilted Sunflower
from
A Lovely Afternoon or Evening Cup of Tea
This is one of the best in Stash's lineup of decaf teas. The flavour is strong even though it is decaf, and does not vanish away once milk and sugar are added. I like it with a bit of whole milk and white sugar. Steeping longer than recommended does not produce a bitter flavour, just a more intense cup, which is a very good thing if, like me, you sometimes forget about the tea you made and only remember 10 minutes later...
Date published: 2022-05-29
Rated

5

out of

5
by
Sherrie
from
I had been drinking another brand of Earl Grey decaf for a long time and found it not quite strong enough, especially if milk is added. I needed to steep it for over 3 minutes to get the flavour to come out. The Stash brand is very aromatic and makes a very flavourful cup of tea with hardly any steeping. I don't drink milk now, so I can get two very tasty cups from one bag!
Date published: 2014-02-20