Stash
Stash Mango Passionfruit Tea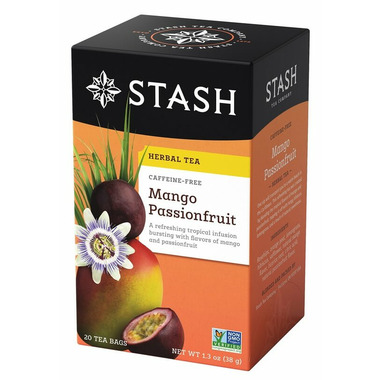 Stash
Stash Mango Passionfruit Tea
20 Count
Stash Mango Passionfruit Tea
is rated out of
5
by
25
.
---
Description
To create their Mango Passionfruit herbal tea, Stash has taken fruity herbs such as rosehips, orange peel, hibiscus and lemongrass, and combined them with the naturally sweet flavor of mango and the tropical flavor of passionfruit. The result is a colorful and aromatic blend that brews up a bright red-orange in the cup with the distinct, exotic flavor of fresh mangos and passionfruits. It is delicious hot or iced and naturally caffeine free.

Ingredients: Rosehips, Orange Peel, Lemongrass, Hibiscus, Safflower, Natural Mango Flavour, Licorice Root, Citric Acid, Natural Passionfruit Flavour.
Highlights

Shipping & Returns
Rated

4

out of

5
by
Nicole
from
LOVE this tea!!! :) I've taken to drinking mostly cold tea during the day (and water), and this is a great addition to the batch that I make. The flavour is great- I chose it because, based on previous reviews, it's relatively sweet on it's own and doesn't require the addition of sugar. Those previous reviews were totally right! I do add a little bit of honey (1/4 tsp) to the whole 1.5L jug, but that's mainly because 1 of the other teas I'm using is slightly bitter. :) Great tea- fruity, flavourful, pretty colouring. )
Date published: 2013-03-05
Rated

4

out of

5
by
Shan
from
Great for iced tea
I will preface this by saying I have not drank it on its own (so giving 4 stars instead of 5), but I use this tea very regularly for iced tea, paired with a black tea or green tea. It pairs so nicely with either of these options, and gives my iced tea a wonderful lift.
Date published: 2020-07-29
Rated

3

out of

5
by
Sam
from
I was looking forward to drinking this tea mainly because of the flavour. It was very bland. Pretty much no flavour to it which was disappointing because I LOVE Mangoes.
Date published: 2017-02-10
Rated

4

out of

5
by
Jaycee
from
Agree with another reviewer that the taste is weak, but it is a nice mild tea, so I guess it depends on what you're looking for.
Date published: 2014-03-21
Rated

2

out of

5
by
Kate
from
very weak. I tried 2 tea bags instead of one, still couldn't taste much more than a bland base black tea. would not buy again.
Date published: 2014-03-04
Rated

5

out of

5
by
Cindy
from
I love this tea! Stash is my favourite brand and they have a great selection of caffeine-free teas and this one is amazing! It's fruity and sweet but not too overpowering because sometimes those make you nauseous. You'll really enjoy it!
Date published: 2019-08-28
Rated

5

out of

5
by
Sharon
from
This tea I combine with the Stash Meyer Lemon and a splash of manuka honey. It makes for a wonderful blend to drink hot or cold. Think I will make some now!
Date published: 2016-04-28
Rated

2

out of

5
by
Linda
from
I was a bit disappointed in that I thought the tea would be more flavourful. Compared to other STASH teas, the flavour was a bit too subtle.
Date published: 2016-12-15