Stash
Stash Premium Licorice Spice Tea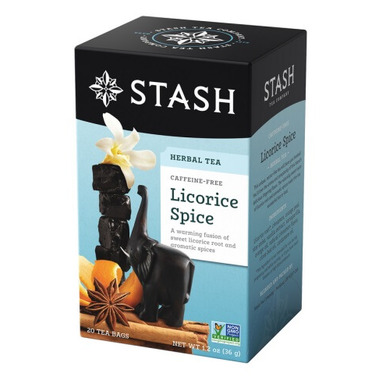 Stash
Stash Premium Licorice Spice Tea
Caffeine Free
20 Count
Stash Premium Licorice Spice Tea
is rated out of
5
by
105
.
---
Description
This unique, nectar-like tea will have you hooked! You'll love the aroma and complexity of this blend's delicious lingering flavour. The naturally sweet taste of licorice root and aromatic spices makes this tea wonderful hot or cold.
Caffeine-free
Ingredients: Licorice root*, cinnamon, orange peel, star anise, natural vanilla flavor, sarsaparilla, orange oil, natural cinnamon flavor, clove bud oil, cardamom oil.
*Note: Licorice root is not intended for use during pregnancy and while nursing, or if you have heart disease or high blood pressure.

Highlights

Shipping & Returns
Rated

3

out of

5
by
Marie
from
I have been drinking this herbal tea for several years. It used to be one of my favorites. I ordered a box two weeks ago and when I got it, I noticed the box looked different. At first I thought maybe Stash had just changed the design on the box of this tea, but when I drank my first cup I became convinced they also changed the recipe. I'm sad to say, unfortunately, I thought it tasted awful. It was much sweeter than it used to be, and had a strange aftertaste I couldn't exactly identify. I tried the tea again two days later, thinking maybe I had steeped it too long that time when it tasted bad. This time, instead of leaving it in for 5 minutes, I let it steep for 3. Still the same sickly-sweet taste with a weird twist. :( Has anyone else noticed a difference in this product lately? I wonder if the company has changed the recipe... Maybe I'll try the Yogi brand next time.
Date published: 2012-12-16
Rated

1

out of

5
by
Lisa
from
I normally LOVE licorice teas! They are naturally sweet and help curb my sweet tooth. However, I think because of the addition of the oil, this tea has a weird herbal oily taste if you steep it for too long. It was a bit off putting. I usually love Stash but was not a fan of this tea.
Date published: 2019-09-09
Rated

5

out of

5
by
Stephanie
from
I love the flavour of this but was shocked to learn that licorice was dangerous if one has high blood pressure. I have been a big fan of licorice but was not aware of this before the tea arrived. I will still consume it but only once a week at the most. Thanks to the warning on it when it arrived - I will now be careful about licorice consumption. Sad that I have to restrict it as this tea is delicious!
Date published: 2019-03-22
Rated

4

out of

5
by
Desi
from
The tea was surprisingly sweet- I know fennel has some natural sweetness to it, but maybe the orange stuff added made a difference? I actually think the orange and the fennel go quite well together and make for a more well-rounded tea. This is excellent for digestion and soothing as an after-dinner tea. For an upset stomach, I will probably still just boil the fennel seeds alone because I think the added sweetness in this tea could potentially be a bit nauseating.
Date published: 2012-05-10
Rated

4

out of

5
by
Susan
from
This licorice tea was lovely after supper to sip watching T.V. Nice taste and aroma. The only thing you do have to let it steep long and my teabag broke so I had bits in my tea. I haven't try another one yet to see if it breaks. Maybe I was pushing to hard on the bag with the spoon. Thanks Wells.ca for carrying it and on sale. It is hard to find that flavour around here.
Date published: 2014-06-13
Rated

5

out of

5
by
stacie
from
Love, love, love this tea! I was surprised by how much I enjoy this tea as I am not a huge licorice fan. The tea has a natural sweetness so no addition of sugar or honey required. The balance of spice and sweet is perfect! I also find it's great for when you are craving something sweet but don't want to consume any calories. It takes the edge off.
Date published: 2012-01-25
Rated

5

out of

5
by
Daniel
from
One of my all time favourite Stash Teas. Licorice root is a natural sweet root and this is very evident in this tea. No sugar or cream is needed, a crisp clean & light flavour at the beginning of the sip, followed by a bold yet innocent sweet anise flavour. Simply delicious. Aids in digestion & a great hot tea for a sore throat.
Date published: 2014-05-28
Rated

5

out of

5
by
ANDRE
from
This herbal tea is the best I have found for my stomach / esophagus ache. I find it tasty compare to other herbal tea and do not get tired of it. It is also goog for helping digestion. I am glad to be able to order it here, since it is hard to find in my area. Thank you for keeping it in stock !
Date published: 2011-02-01