Super Human Nourish Vegan Greens and Fruits Protein
Crushed Vanilla Bean
1000g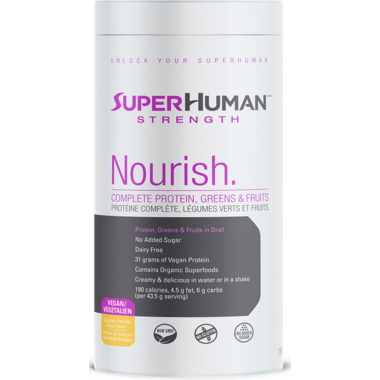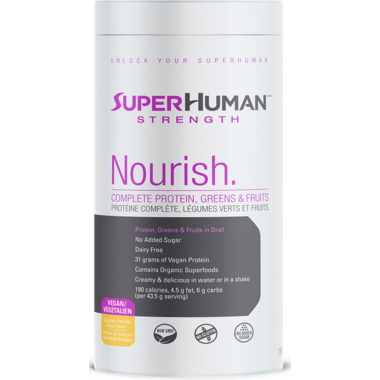 Super Human Nourish Vegan Greens and Fruits Protein
Crushed Vanilla Bean
1000g
Pea Protein Isolate with greens & fruits
Our Vegan Nourish formula is one of the greatest combinations of protein, greens and reds that you can get. Packed with lots of organic vegetables and fruits and additional probiotics, this pea protein isolate formula has just about everything that you need. We find that it's very popular with everyone from yoga moms to active dads to professional athletes. Whether it be pre or post workout, this formula will fill you up full and provide all the benefits associated with pure pea protein isolate.
1000 grams(2.2 lbs) - 43.5 gram serving - 23 Servings
Benefits:
30g of Vegan Protein (Pea Protein Isolate, Rice Protein Concentrate)
6g of total carbohydrates
2g of natural sugar (No sugar added)
Organic SuperFood Complex (Apple, Broccoli, Carrot, Cabbage, Chlorella, Spinach,beat, cabbage, clorella, spinach, Strawberry, Acai, Blueberry, Acerola Cherry)
Digestive Enzyme blend
Probiotics
Ingredients:
Pea Protein Isolate, Natural Flavour, Coconut Powder, Rice Protein Concentrate, Organic
Guar Gum, Organic Broccoli (Stem and Floret) Powder, Organic Carrot (Root) Powder, Organic Apple
(Whole) Powder, Organic Beet (Root) Powder, Organic Seabuckthorn (Fruit) Powder, Stevia Leaf Extract,
Organic Cabbage (Head) Powder, Organic Chlorella (Cracked Cell) Powder, Organic Spinach (Leaf) Powder,
Organic Strawberry (Berry) Powder, Organic Acai (Whole Fruit) Powder, Organic Acerola Cherry (Juice)
Powder, Enzyme Blend (Protease, Amylase, Lactase, Bromelain, Cellulase, Lipase), Organic Blueberry (Fruit)
Powder, Probiotic Blend (Lactobacillus acidophilus, Lactobacillus casei, Bifidobacterium longum).