Super Maqui Plus with Delphinol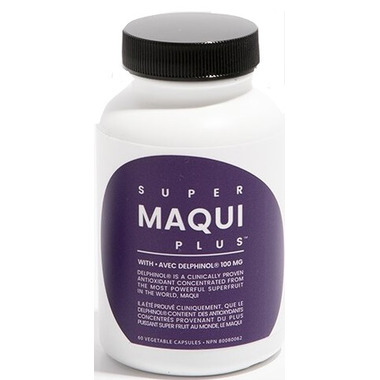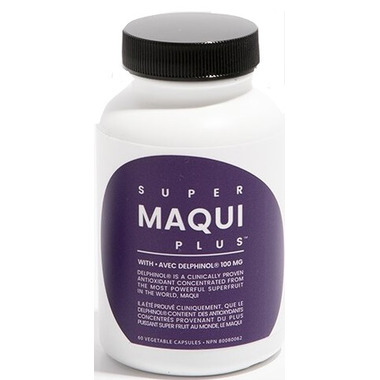 Super Maqui Plus with Delphinol
Super Maqui Plus with Delphinol is a highly bioavailable concentrate of anthocyanins derived from the most powerful superfruit in the world - Maqui Berries! While these little berries from Chile have 7x the antioxidant value of acaí berries and are 9x more powerful than goji berries, Super Maqui Plus with Delphinol is 15x stronger than the maqui berry itself. Studies have shown that Super Maqui Plus with Delphinol can not only neutralize free radicals, but prevent inflammation associated with oxidative stress from effecting the body's aging process.
ANTIOXIDANT
Super Maqui Plus with Delphinol has the highest concentration of anthocyanins in the world and has been proven to neutralize free-radicals, agents that cause oxidative stress, trigger inflammation, and age the body.
SUPER BIOAVAILABLE
Its low molecular weight ensures that your body is reaping all of the benefits of Super Maqui Plus with Delphinol.
ANTI-INFLAMMATORY
Oxidative stress leads to inflammation in the body. The antioxidant properties of Super Maqui Plus with Delphinol prevents inflammatory responses associated with sun damage and chronic inflammatory diseases.
SUGAR METABOLISM
In a clinical study with 36 pre-diabetic participants it was found that after 30 days Super Maqui Plus with Delphinol lowered their blood glucose levels and decreased their LDL cholesterol levels.
DRY EYES
Its high bioavailability allows for Super Maqui Plus with Delphinol to reduce oxidative stress in the lacrimal glands and increase tear production within 2 months of treatment.
SKIN HEALTH
Super Maqui Plus with Delphinol has been clinically proven to protect the skin from photodamage caused by UVA/UVB rays while also protecting the fibroblasts in the dermis — the skin cell that dictates collagen production, elasticity, and wrinkling.
Usage:
Take 2 capsules (200mg) on an empty stomach 10-15 minutes before breakfast.
You can also add the content of the 2 capsules into a glass of water, smoothie, milk, or juice.
Ingredients:
Delphinol®, Microcrystalline Cellulose
Caution:
Keep out of reach of children. Consult your healthcare practitioner before use if pregnant or undergoing chemotherapy. Store at room temperature in a cool and dry setting, and avoid light exposure. Sealed for freshness. Do not use if seal is broken.