Suro Breathe Ultimate Breathing Solution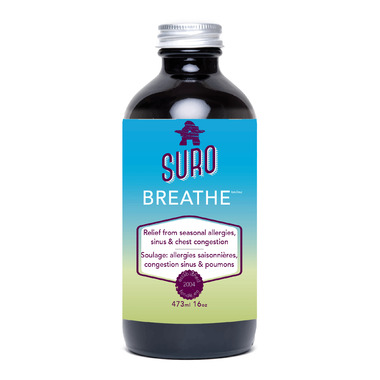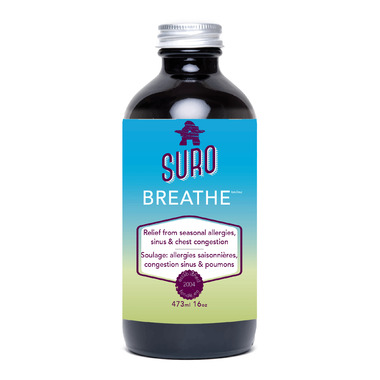 Suro Breathe Ultimate Breathing Solution
Suro Breathe™ is a modern organic remedy formulated by a physician to help various sources of breathing difficulties.
Whether you are experiencing difficulty breathing due to asthma, sinus congestion caused by seasonal allergies, lung congestion from various illnesses such as the common cold and flu, or even air pollution, Suro Breathe™ will help you! Suro Breathe™ maximizes breathing by relaxing and opening up the airways, and decreasing congestion. It is also formulated to help soothe and heal irritated tissues from inflammation and irritation.
Features:
Liquid remedy
Physician Formulated
Certified Organic
Canadian Elderberries
Contains the following herbs:
Nettle, Eucalyptus, Elderflower, Fenugreek, Thyme, Marshmallow, Mullein, English plantain, Sage, American ginseng, Rosemary, Elderberries, Aniseed, Spearmint, Cinnamon, Green tea, Juniper berries, Essential oil of clove.
*Not to be taken with someone with hypertension or taking diuretics

Don:
a few months ago
Used this product to get rid of some that mild but irritating chest congestion that started from a flu-like bug I have 2 months before. After beating the bug (which lasted only for a few days) I had a lingering cough that would happen when I was in the cold or ate food that left little particles in my throat. I bought this product yesterday and used it according to the instructions. I tablespoon 4 time a day. I slept through the night without any congestion and today I feel a clear chest! So it must be working and I consider it to be a worthwhile purchase. P.S I knew it wasn't bronchitis or pneumonia due to my experience...any lingering cough for more than a couple of weeks should be check by and expect just to make sure..all the best!
Dani:
more than a year ago
I wasn't that impressed by this product, I think because most if us are sort of trained to expect that mouth-burning hit of menthol and eucalyptus to force our airways open and lessen chest congestion. This does work, but you definitely have to wait for the effects to ease it's way onto you. I have to admit though, that as subtle as the taste is compared to the usual natural or drug store type medicines out there, it is indescribably awful. I think it's the fenugreek that puts me off. So bottom line, it does work but I felt it was just too mild for the price of this and the taste is something I'd rather never taste again. For me, it's bring on the strongest menthol stuff out there that takes your breath away. At least that feels like it's doing something really well.
Page
1