Suro
Suro Kids Elderberry Syrup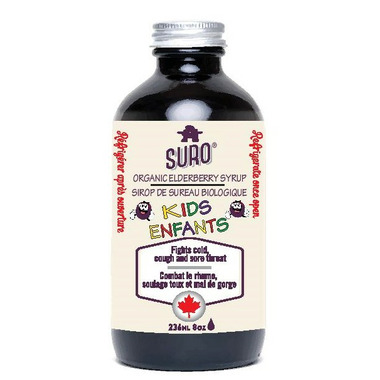 Suro
Suro Kids Elderberry Syrup
236 mL
Suro Kids Elderberry Syrup
is rated out of
5
by
15
.
---
Description
Certified Organic Elderberry Syrup made with organic Canadian elderberry, extracts of elderflowers, propolis, and raw honey. Traditionally used to help fight colds and flu. Alcohol free. Especially made for kids, this syrup tastes good! Soothes sore throats, helps in case of coughing, fever. Also contains elderflower and propolis tinctures with Canadian raw honey.

Recommended Use:
10 to 14 years old: 1 tsp (5ml) 2 to 4 times per day
5 to 9 years old: 1 tsp (5ml) 2 times per day
2 to 4 years old: 1 tsp (5ml) once a day
1 to 2 years old: Follow health care provider's recommendation
Highlights

Features
Made in Canada from exclusively Canadian ingredients
Certified Organic
No added water or fructose
Canadian, Organic, Raw, Unpasteurized Honey
Once open, good until expiry date (good for 2 years if opened!)
Better resistance to heat and light than European elderberry
Approved by Health Canada
Elderberry, elderflower and echinacea extracts
A syrup that tastes good and works
Ingredients
Medicinal Ingredients PER Tbsp (15ml): 1:2.77, (1,675 mg) organic Elderberry (Sambucus canadensis); 1:5.08, (28,5 mg) propolis tincture (bee hive); 1:2.14, (100 mg) fresh organic Elderflower.? Non-medicinal Ingredients: Non-pasteurized organic honey, organic apple cider vinegar.
Shipping & Returns
Rated

5

out of

5
by
Amanda
from
Love this stuff for my 3 year old. Really helps cut the duration and severity of colds. I give to my son daily during the winter months to stay ahead of viruses. It has really helped! I take the adult version as well! Highly recommend. He likes the taste. I put it in a little shooter cup and he is thrilled to drink his healthy vitamin he calls it!
Date published: 2020-01-05
Rated

5

out of

5
by
Sarah K
from
Great quality and good ingredients!
I love that this is made using good ingredients! A bit tangy but that's because it has apple cider vinegar which is good for you! My 7yo, 5yo and 3yo take it no problem :)
Date published: 2020-04-10
Rated

4

out of

5
by
Jan
from
Kids love the taste!
I bought this product to see if it would reduce the amount of colds my kids would get. I have been using it for a month now, they love the taste and take it every morning. So far have not gotten a cold but I feel its too soon to tell if it really deserves 5 star. But I will keep using since they love it!
Date published: 2020-03-22
Rated

5

out of

5
by
Jlynn
from
Kids tolerate it and it seems to help!
I have given this to my girls daily, for a month now, to stay ahead of viruses. Trying everything to keep them healthy and not have to get another Covid-19 test. They don't love the taste but they will actually drink it so I've ordered a few more bottles to get us through high germ season.
Date published: 2021-03-26
Rated

5

out of

5
by
Bri20
from
Great Stuff!
This elderberry syrup is one of the best out there. It really works and helps with cutting colds in half. I love that it is made in Canada and that it has the best quality ingredients. It also has a great taste my kids love it. It's become a regular in my medicine cabinet
Date published: 2022-11-03
Rated

5

out of

5
by
MY
from
Great Product
My daughter who is 6 years old have been using it since last year. We noticed she didn't get sick as often as she used to be. Great Product!! Customer Services from Well.ca is awesome too. The rep who helped me was great and answered all my answers.
Date published: 2020-04-13
Rated

5

out of

5
by
Amanda34
from
Excellent as always
This is a great syrup for the whole family! It really helps to alleviate symptoms of the flu (mainly cough and throat ache). I love it and highly recommend it.
Date published: 2020-04-05
Rated

5

out of

5
by
Carrie
from
Must-have product!
We always have this on hand and take at the first sign of a cold. It really does help stop a cold in its tracks or reduce the severity of symptoms.
Date published: 2020-01-10