Suro
Suro Organic Elderberry Syrup Adult Formula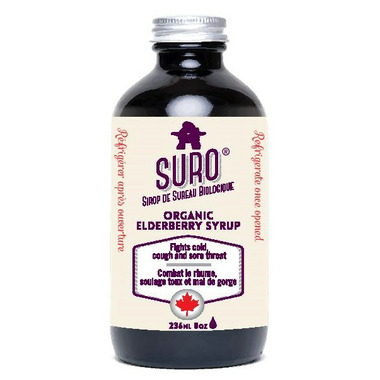 Suro
Suro Organic Elderberry Syrup Adult Formula
236 mL
Suro Organic Elderberry Syrup Adult Formula
is rated out of
5
by
31
.
---
Description
Suro Organic Elderberry Syrup is made with organic Canadian elderberries, extracts of elderflowers, propolis, echinacea* and raw honey. Traditionally used to help fight colds and the flu. Use it when you have cough, sore throat, fever or congestion. Also contains propolis, elderflower and echinacea tinctures with Canadian raw honey.

Highlights

Features
Made in Canada from exclusively Canadian ingredients
Certified Organic
No added water or fructose
Canadian Organic, Raw, Unpasteurized Honey
Once open, good until expiry date (good for 4 years if opened!)
Better resistance to heat and light than European elderberry
Approved by Health Canada
Elderberry, elderflower and echinacea extracts
A syrup that tastes good and works
Ingredients
Medicinal Ingredients per 5ml: 1:2.91, (1658 mg) Organic Elderberry (Sambucus canadensis); 1:2.14, (100 mg) Organic Elderflowers (Sambucus canadensis); 1:5.08, (24.1 mg) Propolis Tincture (Bee Hive); 1:5.5, (9.55 mg) Echinacea Root Tincture (Echinacea purpurea). Non-medicinal Ingredients: Non-Pasteurized Organic Honey*, Organic Apple Cider Vinegar, Organic Cane Sugar Alcohol.
Shipping & Returns
Rated

5

out of

5
by
Jenny5309
from
The very best
This stuff is THE best for fighting winter colds . I love that combined with the elderberry it also contains bee hive tincture and echinacea tincture. As soon as my kids or I feel anything I make us take it. All three of my kids love the taste. I think it is reminiscent of grape juice .
Date published: 2020-01-10
Rated

5

out of

5
by
liseanne13
from
A must in the winter!
This is my second winter taking this syrup every day - I haven't had a cold or the flu. It also helps with canker sores. I've stopped taking oregano oil and replaced it with elderberry syrup. I take 1 1/2 tsp a day and that does the trick.
Date published: 2020-04-23
Rated

5

out of

5
by
Andrea
from
Tastes great
I've bought this twice now and will always keep it in stock. It makes such a difference in improving health, drastically reducing time and severity of illness, and I don't have to fight to make my kids (or husband) to take it.
Date published: 2020-02-04
Rated

4

out of

5
by
Momof3
from
Likeable, family-friendly taste
Every winter, I see the word "elderberry" appear. As an ingredient to combat cold symptoms. A neighbour-friend swears by elderberry for his kids to use throughout a cold. I like the taste, it's sweet, but also vinaigry. It was an instant hit with my 6 year old twins. We are halfway through a cold, so not sure if Suro will still have an effect, but we're hoping and will continue to use it daily until our cold subsides. Esp. during COVID-times, I'm more motivated than usual to reduce any cold symptoms!
Date published: 2020-10-04
Rated

5

out of

5
by
Lady E
from
Great preventative measure.
I can truly say this product works for my family and I. We've been talking it in and out of season as a preventative measure. It works well even at the first sight of colds and flu. Suro was recommended by a co-worker after sharing the story of my son's respiratory challenges, since we started using it along with many prayers it works. Very effective. Suro for Kids is also available and works just the same. We love the taste. It's great and does not leave any bad aftertaste.
Date published: 2020-12-08
Rated

5

out of

5
by
MiaLuna
from
Recovering after Covid .
SURO (adult ) releived our cough in the first 24 h . Non toxic to the liver. We loved the taste sour and sweet. Me and my husband bought each his own bottle after we tested + for covid ( with mild symptoms , runny nose and sore throat, headaches ) .We were so surprised to see that we felt much better taking the syrup than advil or tylenol. We recomend it.
Date published: 2022-03-31
Rated

4

out of

5
by
jackie27
from
Good Cold Support
I was looking for cold medicine and stumbled upon this. I liked that it's organic and people seemed pleased with it. The taste is an acquired one - sort of like apple cider vinegar. I didn't notice much of an improvement although I had taken as directed. Still good to have on hand at work or something to slightly curb some of the symptoms.
Date published: 2020-03-31
Rated

5

out of

5
by
PetersFam6
from
Worth the money
Our family has used many Suro products, over the last few years, to fight off sickness. This product does not disappoint. It's easy to take, has excellent ingredients and is effective. Will continue to purchase this again and again.
Date published: 2020-10-29