Swiss Natural Sources CoQ10
Co-Enzyme Q10
60 capsules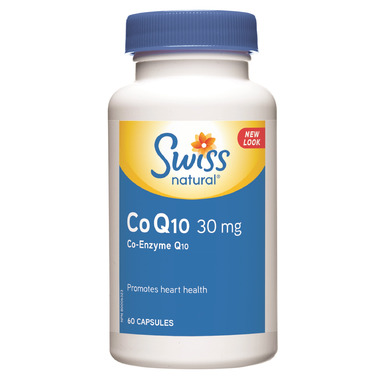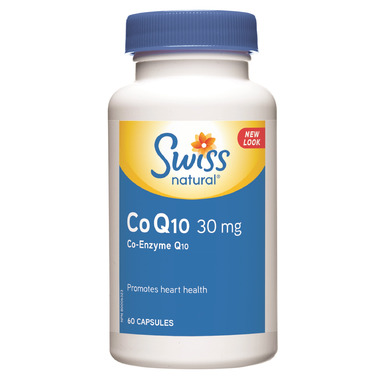 Swiss Natural Sources CoQ10
Co-Enzyme Q10
60 capsules
A fat soluble, vitamin-like compound that is naturally present in most human cells. It is normally produced in the body, however, deficiencies can occur if there is impaired CoQ10 biosynthesis due to metabolic disorders, as well as not getting enough from your diet. Since the heart and liver have high energy requirements on a daily basis, they have the highest CoQ10 concentrations.

According to researchers, CoQ10 reduces the accumulation of oxidized fats in blood vessels, eases high blood pressure and regulates the rhythm of the heart. The quantity of CoQ10 present in the body decreases as a person ages, therefore supplementation in the diet is beneficial, particularly for people over the age of 50. It is recommended to take CoQ10 supplements daily with oily or fatty foods, such as fish or fish oil supplements, to enhance absorption. For doses above 100mg, consult a healthcare practitioner prior to use.

Co-Enzyme Q10 is widely used to:

Boost cardiovascular health

Enhance energy levels

Acts as an antioxidant

Benefiting both the body and the brain

Increase tissue oxygenation

Lower blood pressure

Stabilize cell membranes

No artificial flavours or colours. No preservatives, sweeteners, dairy, corn, soy, gluten, wheat or yeast.
Dosage: 30 mg



Susan:
more than a year ago
Great product! My father had 5 bipasses 20 years ago, after which he started taking coQ10 on his cardiologists advice - he has had no further issues and is 81 yrs now! He is like a 70 yr old. Sharp as a tack and still working full-time in his own practise. He swears this is the reason why he's doing so well and I believe him. I have been hearing all sorts of great things in the media about this, so I'm jumping right in.
Page
1