Swiss Natural Sources Swiss One Multivitamin & Mineral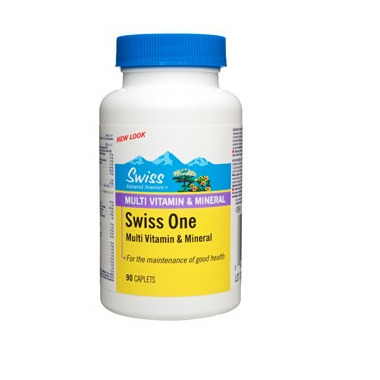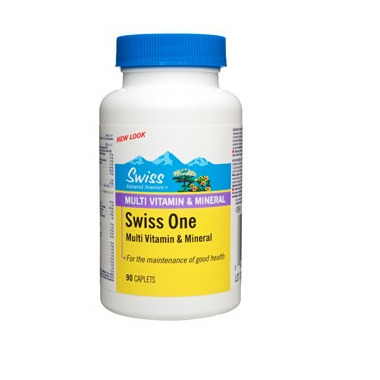 Swiss Natural Sources Swiss One Multivitamin & Mineral

Swiss One Multi Vitamin and Mineral is a blend of vitamins and minerals to support brain, bone, cardiovascular, metabolic, tissue, and cell health.
Recommended Dose:
Adults : Take one caplet daily with food or as directed by healthcare practitioner. Take 2 hours before or 4 hours after taking other medications.
Ingredients:
Vitamin A (Acetate) 8000 I.U.
All-trans Beta Carotene 2000 I.U.
Vitamin B1 (Thiamine Hydrochloride) 4.5mg
Vitamin B2 (Riboflavin) 2.5mg
Vitamin B6 (Pyridoxine Hydrochloride) 2.5mg
Vitamin B12 (Cyanccobalamin) 5mcg
Biotin 10mcg
Folic Acid (folate) 50mcg
Niacinamide 20mg
Pantothenic Acid (Calcium d-Pantothenate) 5mg
Vitamin C (Ascorbic Acid) 100mg
Vitamin D3 (Cholecalciferol) 400 I.U.
Vitamin E (D-Alpha Tocopheryl Acetate)10 I.U.
Elemental Calcium (Tri-Calcium Phosphate) 125mg
Elemental Copper (Gluconate) 1mg
Elemental Iodine (Potassium Iodide) 100mcg
Elemental Iron (Ferrous Fumarate) 4mg
Elemental Magnesium (Oxide) 50mg
Elemental Manganese (Gluconate) 1mg
Elemental Potassium (Chloride) 10mg
Elemental Zinc (Gluconate) 1mg
Choline Bitartrate 15mg
Inositol 15mg
Non-medicinal ingredients :
alfalfa, carnauba wax, colloidal silicon dioxide, hydroxy propyl methyl cellulose, kelp powder, magnesium stearate, microcrystalline cellulose, purified water, rosehips powder.
No artificial flavours, colours or sweeteners. No preservatives or wheat.