Swiss Natural
Swiss Natural Total One Multi Vitamin & Mineral Women 50+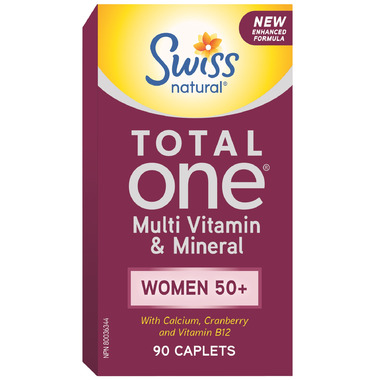 Swiss Natural
Swiss Natural Total One Multi Vitamin & Mineral Women 50+
Description
You don't want to miss a moment as you take on the fabulous 50s and beyond. So add Total One® Women 50+ to your daily routine. It's formulated specifically with you in mind. With ingredients like calcium, cranberries and vitamin C and D, it gives you everything you need to supplement your health. Plus, Swiss Natural didn't add anything extra, so you won't find any artificial preservatives, colours, dairy, or wheat.
Recommended Dose:
Adult Females: Take 1 caplet daily with food or as directed by a healthcare practitioner. Take a few hours before or after other medications.

Recommended Use:
To maintain optimal health for women over age 50.

Additives:
No artificial preservatives, colours, dairy or wheat.
Warning:
Do not use if pregnant/breast feeding. Consult a healthcare practitioner prior to use if you have a liver disorder or develop liver-related symptoms (e.g. abdominal pain, jaundice, dark urine), have a history of kidney stones, are taking thyroid hormone replacement therapy, blood thinners or any medications or have any chronic conditions.
Contraindications:
Do not use if pregnant/breast feeding.
Ingredients: Beta Carotene 3 000 I.U.† Vitamin A (Acetate) 1500 I.U.‡ Vitamin B1 (Thiamine Hydrochloride) 5 mg; Vitamin B2 (Riboflavin) 25 mg; Vitamin B6 (Pyridoxine Hydrochloride) 25 mg ; Vitamin B12 (Cyanocobalamin) 50 mcg; Biotin 45 mcg; Folic Acid (folate) 600 mcg; Niacinamide 25 mg; Pantothenic Acid (Calcium d-Pantothenate) 10 mg;Vitamin C (Ascorbic Acid) 100 mg; Vitamin D3 (Cholecalciferol) 20 mcg / 800 I.U. ;Vitamin E (D-Alpha Tocopheryl Acid Succinate) § A.T.: alpha-tocopherol 20.1 mg A.T.§ / 30 I.U. † equivalent to 2400 mcg; all-trans beta carotene ‡ equivalent to 450 mcg retinol activity equivalents (RAE) &nbsp; MINERALS Elemental Calcium (Carbonate, Citrate) 200 mg; Elemental Chromium (HVP* Chelate) 100 mcg; Elemental Copper (Gluconate) 1 mg; Elemental Iodine (Potassium Iodide) 150 mcg; Elemental Magnesium (Citrate, Oxide) 65 mg; Elemental Manganese (Gluconate) 2.5 mg; Elemental Molybdenum (HVP* Chelate) 30 mcg; Elemental Potassium (Citrate) 50 mg; Elemental Selenium (HVP* Chelate) 55 mcg; Zinc (<a class="glossaryItem" rel="#10205">HVP</a>* Chelate, <a class="glossaryItem" rel="#10176">Citrate</a>) 15 mg 10 mg.

Non-Medicinal Ingredients: Dried Cranberry Juice (4:1) (Vaccinium macrocarpon Aiton) 20 mg**; Lutein (Marigold Flower) 400 mcg; Zeaxanthin (Marigold Flower) 17.6 mcg;
*HVP: Hydrolyzed Vegetable Protein **equivalent to 80 mg of fruit
Highlights

Ingredients
Ingredients: Beta Carotene 3 000 I.U.? Vitamin A (Acetate) 1500 I.U.? Vitamin B1 (Thiamine Hydrochloride) 5 mg; Vitamin B2 (Riboflavin) 25 mg; Vitamin B6 (Pyridoxine Hydrochloride) 25 mg ; Vitamin B12 (Cyanocobalamin) 50 mcg; Biotin 45 mcg; Folic Acid (folate) 600 mcg; Niacinamide 25 mg; Pantothenic Acid (Calcium d-Pantothenate) 10 mg;Vitamin C (Ascorbic Acid) 100 mg; Vitamin D3 (Cholecalciferol) 20 mcg / 800 I.U. ;Vitamin E (D-Alpha Tocopheryl Acid Succinate) ? A.T.: alpha-tocopherol 20.1 mg A.T.? / 30 I.U. ? equivalent to 2400 mcg; all-trans beta carotene ? equivalent to 450 mcg retinol activity equivalents (RAE) MINERALS Elemental Calcium (Carbonate, Citrate) 200 mg; Elemental Chromium (HVP* Chelate) 100 mcg; Elemental Copper (Gluconate) 1 mg; Elemental Iodine (Potassium Iodide) 150 mcg; Elemental Magnesium (Citrate, Oxide) 65 mg; Elemental Manganese (Gluconate) 2.5 mg; Elemental Molybdenum (HVP* Chelate) 30 mcg; Elemental Potassium (Citrate) 50 mg; Elemental Selenium (HVP* Chelate) 55 mcg; Zinc (
HVP
* Chelate,
Citrate
) 15 mg 10 mg. Non-Medicinal Ingredients: Dried Cranberry Juice (4:1) (Vaccinium macrocarpon Aiton) 20 mg**; Lutein (Marigold Flower) 400 mcg; Zeaxanthin (Marigold Flower) 17.6 mcg; *HVP: Hydrolyzed Vegetable Protein **equivalent to 80 mg of fruit
Shipping & Returns