Swiss Natural
Swiss Natural Total One Multi Vitamin & Mineral Women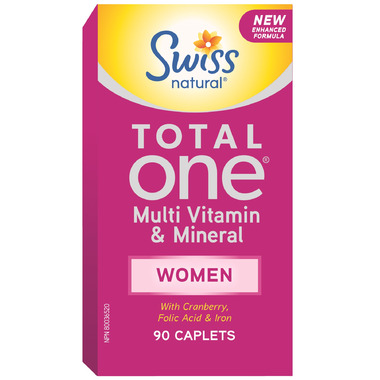 Swiss Natural
Swiss Natural Total One Multi Vitamin & Mineral Women
Description
What are the basics to a healthy lifestyle? Watch what you eat, try to exercise 30 minutes a day, take time to relax, clock a good night's sleep, and of course, a daily multi vitamin. Total One® Women is formulated with calcium, cranberries, vitamin C and D, and high levels of B vitamins to ensure that you get everything you deserve. Plus, Swiss Natural didn't add anything extra, so you won't find any artificial preservatives, colours, dairy, or wheat.

Recommended Dose:
Adult Females: Take 2 caplets daily with food or as directed by healthcare practitioner. Take 2 hours before or after other medications.
Recommended Use:
To maintain optimal health for women under age 50.
Additives: No artificial preservatives, colours, dairy or wheat.
Warning:
Consult healthcare practitioner if taking medications or have chronic conditions. Keep out of reach of children. There is enough iron in this package to seriously harm a child.

Contraindications:
Do not use if pregnant/breast feeding.
Ingredients:
| | |
| --- | --- |
| Beta Carotene | 3000 I.U.†† |
| Vitamin A (Acetate) | 1500 I.U.† |
| Vitamin B1 (Thiamine Hydrochloride) | 25 mg |
| Vitamin B2 (Riboflavin) | 25 mg |
| Vitamin B6 (Pyridoxine Hydrochloride) | 25 mg |
| Vitamin B12 (Cyanocobalamin) | 50 mcg |
| Biotin | 30 mcg |
| Folic Acid (folate) | 600 mcg |
| Niacinamide | 25 mg |
| Pantothenic Acid (Calcium d-Pantothenate) | 10 mg |
| Vitamin C (Ascorbic Acid) | 100 mg |
| Vitamin D3 (Cholecalciferol) | 20 mcg / 800 I.U. |
| Vitamin E (D-Alpha Tocopheryl Acid Succinate) § A.T.: alpha-tocopherol | 20.1 mg A.T.§ / 30 I.U. |
† equivalent to 450 mcg retinol activity equivalents (RAE)
‡ equivalent to 1800 mcg all-trans beta carotene
Minerals:
Calcium (HVP* Chelate, Carbonate)
200 mg
Elemental Chromium (HVP* Chelate)
75 mcg
Elemental Copper (Gluconate)
1 mg
Elemental Iodine (Potassium Iodide)
150 mcg
Elemental Iron (Ferrous Gluconate)
10 mg
Elemental Magnesium (Citrate, Oxide)
65 mg
Elemental Manganese (Gluconate)
2.5 mg
Elemental Molybdenum (HVP* Chelate)
20 mcg
Elemental Potassium (Citrate)
25 mg
Elemental Selenium (HVP* Chelate)
55 mcg
Zinc (HVP* Chelate, Citrate)
Other Ingredients:

| | |
| --- | --- |
| Dried Cranberry Juice (4:1 ) (Vaccinium macrocarpon aiton) | 30 mg**(120mg) |
| Lutein (Marigold flower) (Tagetes erecta) | 500 mcg |
| Zeaxanthin (Marigold flower) (Tagetes erecta) | 22 mcg |
** equivalent to 375 mg of seed
* HVP : Hydrolyzed Vegetable Protein
Highlights

Shipping & Returns