TENA
TENA Stretch Brief Super Absorbency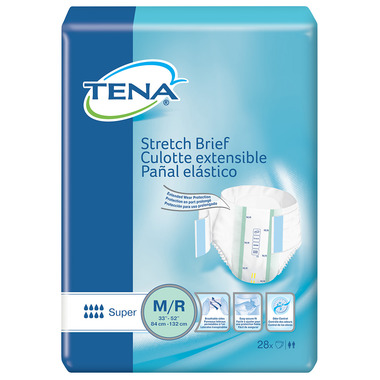 TENA
TENA Stretch Brief Super Absorbency
Medium/Regular
28 Count
TENA Stretch Brief Super Absorbency
is rated out of
5
by
16
.
---
Description
TENA Stretch Super absorbency provides maxium bladder and/or bowel protection for nighttime or extended wear. The unique feature combination of Stretch Sides with full-length hook fasteners provides secure, stay-in-place fit. This easily customizable fit reduces product gapping and sagging for comfort, security and effective leakage control. Soft non-woven material provides full breathability while promoting skin health and comfort.
Features maximum absorbency for nighttime or extended protection.

Features:
Fully Breathable Stretch Sides

Fully breathable to promote skin health and comfort

Easier to select the right size, faster to apply

Provides secure, individualized "stay in place" fit for effective leakage control and improved comfort

Unique TENA "Surestay" Wide Hook System delivers unlimited, fast, secure fastenability – first time, every time

Super Absorbent Polymer Micro-beads to help reduce odour and quickly lock away liquids to help promote drier skin with more comfort and discretion.

Soft Non-woven Backsheet is gentle against the skin and less noisy, providing improved comfort and greater dignity.

Moisture-proof Lining protects clothing and linen against wetness and is colour coded for fast and accurate product selection.

Blue Target Absorption Zone provides extra protection where needed the most to quickly lock in liquids and odour, promoting drier, healthier skin with dignity and discretion.

Curved Elastics provide a better fit, enhanced leakage protection and more comfort.

Wetness indicator alerts the caregiver that the brief has been soiled and needs to be checked
Rated

5

out of

5
by
Teri
from
great for travel, museums, line ups
I went to Boston on Memorial Day weekend and took the subway to one of the museums that was free that weekend. Everything else seemed to be closed in the area and I really had to go by the time I got onto the T. By the time we arrived at the museum I was desperate - coffee, OJ, water pill. The line up to get into the museum meant another 20 minute wait. One man in line asked the staff if he could go into the museum to use the washroom - NO, he had to wait until he was admitted. I just had to let it go in line and nobody could tell. I don't know if the gentleman found somewhere discreet to go. Tena sure saved my day.
Date published: 2013-11-13
Rated

5

out of

5
by
kyle
from
an awesome brief
I have to wear these briefs everyday all day. And for that i needed something that can be discreet even when wet which in my line of work is the biggest thing, and with being so young in age you need them to be discreet in any situation. Thanks you tena for making a product that helps use in so many of us deal with the hand we been given.
Date published: 2015-09-04
Rated

5

out of

5
by
Dragoon
from
Very Good quality
I use these diapers virtually every day. They are discreet, absorbent and comfortable. I purchase these from a local medical supply store and hands down they beat any depends or grocery store brand adult diaper.
Date published: 2013-09-25
Rated

5

out of

5
by
TodWalch
from
It stays up when and dose not slide down.
It can be so embaresing when your wet and your sagging. but now I can walk freely and with a smile. Night time I get more sleep for I seem to toss and turn in my sleep and notthing moves so I waik up with a dry bed. Thanks TENA.
Date published: 2013-09-25
Rated

5

out of

5
by
Sally
from
Helping With Alzheimers
My mother is suffering from Alzheimers and often forgets when she needs to use the bathroom. I started to use these briefs and it was such a relief. She wears them just like panties and doesn't know the difference. This is a terrible disease and I recommend anything that can help the person afflicted.
Date published: 2013-09-25
Rated

3

out of

5
by
Cleo236
from
Okay
Good for in house wearing but not comfortable enough for public wear.
Date published: 2013-09-27
Rated

5

out of

5
by
GAIL
from
I have used this product only once and was quite happy with
I was worried about leakage when I was out snowmobiling as we were out for a long time. I felt very confident with it. I will definitely use this product as I get older and have more problems than I have today.
Date published: 2015-07-22
Rated

5

out of

5
by
Joycecreyf
from
AMAZING
Feeling like I can now sleep ALL NIGHT EVERY NIGHT without a worry is wonderful. Thank you Tena,as I am now a satisfied customer.
Date published: 2013-09-27