TENA Stretch Brief Super Absorbency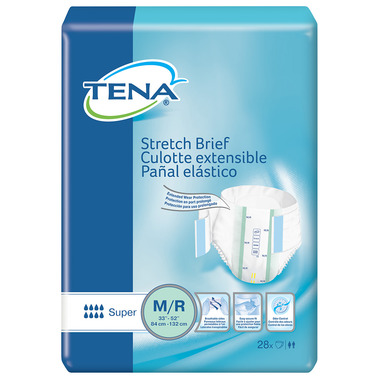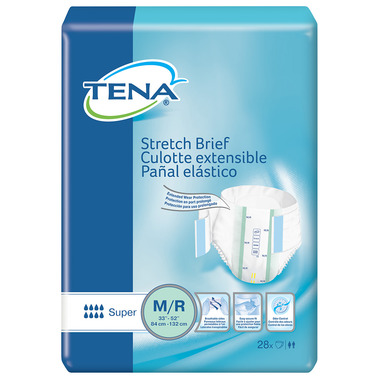 TENA Stretch Brief Super Absorbency
TENA Stretch Super absorbency provides maxium bladder and/or bowel protection for nighttime or extended wear. The unique feature combination of Stretch Sides with full-length hook fasteners provides secure, stay-in-place fit. This easily customizable fit reduces product gapping and sagging for comfort, security and effective leakage control. Soft non-woven material provides full breathability while promoting skin health and comfort.
Features maximum absorbency for nighttime or extended protection.

Features:
Fully Breathable Stretch Sides

Fully breathable to promote skin health and comfort

Easier to select the right size, faster to apply

Provides secure, individualized "stay in place" fit for effective leakage control and improved comfort

Unique TENA "Surestay" Wide Hook System delivers unlimited, fast, secure fastenability – first time, every time

Super Absorbent Polymer Micro-beads to help reduce odour and quickly lock away liquids to help promote drier skin with more comfort and discretion.

Soft Non-woven Backsheet is gentle against the skin and less noisy, providing improved comfort and greater dignity.

Moisture-proof Lining protects clothing and linen against wetness and is colour coded for fast and accurate product selection.

Blue Target Absorption Zone provides extra protection where needed the most to quickly lock in liquids and odour, promoting drier, healthier skin with dignity and discretion.

Curved Elastics provide a better fit, enhanced leakage protection and more comfort.

Wetness indicator alerts the caregiver that the brief has been soiled and needs to be checked
Puffy:
more than a year ago
I have used Tena Super briefs for many years, these are the same quality and work great for their intended purpose. I noticed the fit was a bit different then the two tape brief, but still very comfortable and secure. Nice not having issues with the bottow tape irritatiing my legs. A good fit for active people. For the cost, these are a terrific product for incontinence!
Kevin:
more than a year ago
These are excellent diapers for active people. They fit well and are super comfortable. The cloth tapes breath and stretch making it feel almost like wearing underwear. They don't get nearly as hot as most diapers with the plastic backing. Good absorbancy but not quite as good as Abena diapers. This is the most absorbant diaper I have found that I can wear discreetly at work. I will definitely be buying this again. Good customer service from Well.ca too.
Page
1