TensCare Dry Night Trainer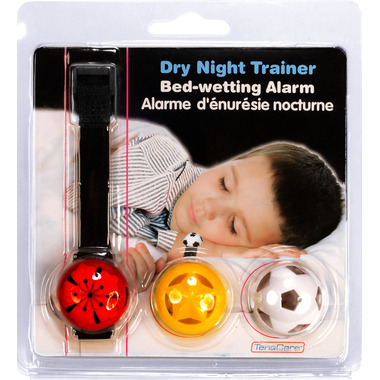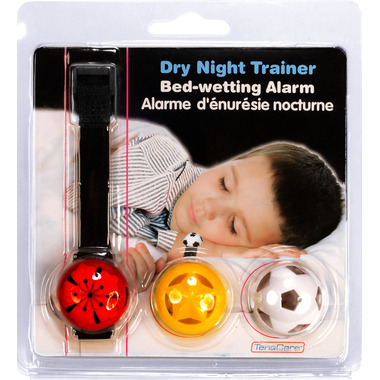 TensCare Dry Night Trainer
Bed-wetting (otherwise known as nocturnal enuresis) is a common childhood problem. Bed-wetting alarms offer parents a non-pharmacological therapy which can treat the underlying pathophysiology involved in bed-wetting.
The TensCare Dry Night Trainer resembles a child's watch and acts as a bed-wetting alarm which can be worn either on the left or right arm. The bed-wetting alarm has two sensors which discreetly loop through the sleeve of the pajamas to the underwear in order to detect any drops of urine. The sensor will react to the wetness on the cloth and the alarm will sound, waking the child up. Gradually over time the child will learn to 'hold on' throughout the night without waking, or will wake up and go to the toilet. After 14 dry nights in a row, the child should not need the alarm anymore.

Why use a Bed-Wetting alarm?
Nighttime incontinence is not within the child's control and can cause substantial psychological distress in children. Parents are reluctant to approach Doctors about their child's bed-wetting and if they do they are hesitant to use prescribed medication
The most critical aspect of treatment is reassurance for the child, who may experience low self-esteem.
The bed-wetting alarm has the highest long-term success rate, but can be labour intensive for children and their families. It is the only non pharmacological treatment that has been shown to treat bed-wetting with long-lasting effect.
Dee:
more than a year ago
Just wanted to update my review below....
Here we are, a year later and I still love this product. when we finally took the sensor off completely, there was no reverting back to bedwetting and I'm proud to say that my son has kept having dry nights. this product is incredible and best of all, means no medicating your child with meds that can be very dangerous to use. We're all still thrilled and so proud of our boy. :)
Dee:
more than a year ago
After reading that at the age of 8, a child who is not yet dry through the night would almost always require medication. I was determined that I was going to try anything before medicating him for bed-wetting. That is when I found this alarm. Well, all I can say is "wow!" It has been less than 2 months and we're almost completely done. From day 1, we would get up with our son,get him to the bathroom quickly, change his underwear (the sensors only require a tiny amount of pee) and put on a dry pull-up over it to keep the sheets dry and repeat. In no time, his pees were getting smaller and his pull up completely dry. Now we are just using the alarm with underwear and bed pads. He is either waking on his own or holding it till morning. He's so proud of himself and we're so proud of him. I really believe with diligent use, this can solve even the most hopeless situations. Great product!
Page
1