Tersa-Tar Therapeutic Shampoo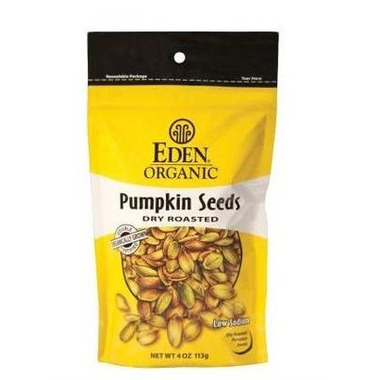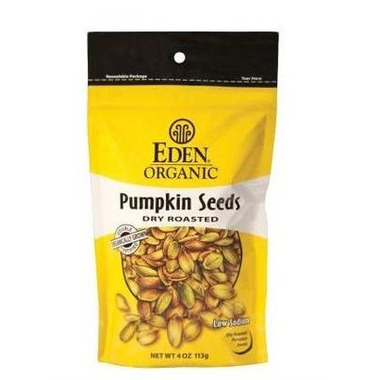 Tersa-Tar Therapeutic Shampoo
- We're sorry, this product is no longer available!
- Shop for other products in: Medicated Shampoo

These delicious dry roasted organic pumpkin seeds are lightly coated with a bit of Eden Organic's fine Atlantic sea salt. Eden Organic Pumpkin Seeds are low in sodium, cholesterol free and an excellent source of magnesium and dietary fiber. They're great for parties, camping, backpacking or a nutritious snack any time. Eden Organic Pumpkin Seeds are wheat free, non gluten, cholesterol free and rich in dietary fiber, protein, magnesium and arrive in a resalable package.

Ingredients: Organic Pumpkin Seeds, Sea Salt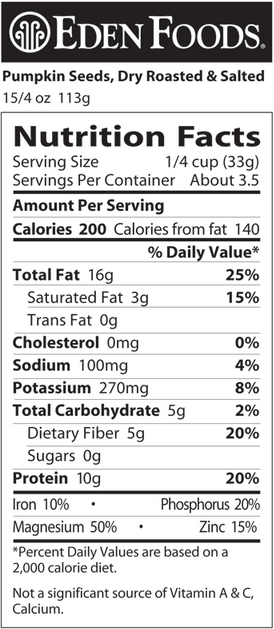 Here's an amazing pumpkin seeds recipe from Eden Organic directly:
Oat Porridge with Pumpkin Seed Dulse Condiment
Serves 4 | Prep Time 10 minutes | Cook Time 15 minutes

Ingredients

1/2 cup Eden Organic Whole Leaf Dulse
3 cups water
1 1/2 cups Eden Organic Oat Flakes
2 ounces Eden Organic Dry Roasted Pumpkin Seeds, 1/2 package
1/4 cup fresh blueberries
1/4 cup sliced fresh strawberries
(Add All Eden Ingredients to Shopping Cart)

Directions

Preheat the oven to 400°. Spread the dulse on a baking sheet and bake for 15 minutes until crispy. Remove and set aside.

Bring water to a boil and add the oat flakes. Reduce the flame to medium low, cover and simmer 5 minutes. While the oats are cooking, place the baked dulse and pumpkin seeds in a blender. Grind to a fine powder by pulsing and mixing several times. Place the oats in serving bowls, garnish with berries and sprinkle the pumpkin seed dulse condiment on each serving.

Nutritional Info
Per serving: 224 Calories, 9g Fat (37% calories from fat), 9g Protein, 26g Carbohydrate, 7g Fiber, 0mg Cholesterol, 81mg Sodium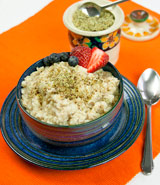 Dosage: 3% Tar Distillate