Thai Kitchen Green Curry Paste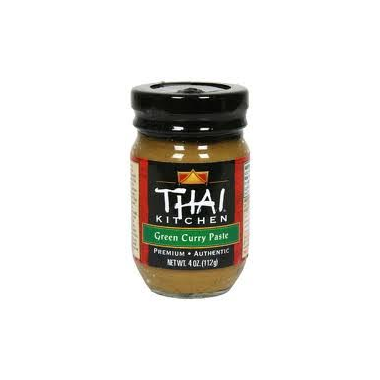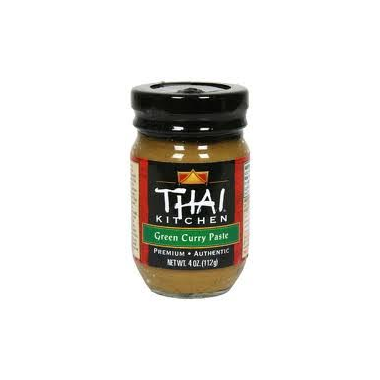 Thai Kitchen Green Curry Paste
Thai Green Curry Paste is an authentic cooking sauce made with the finest Thai ingredients and brought to you in a glass jar. Aromatic herbs such as lemongrass, galangal (Thai ginger) and fresh green chilis are harvested at their peak of freshness and carefully blended with fragrant spices for the perfect balance of flavors. Use as a stir-fry seasoning, a soup base, or with coconut milk to create a delicious Thai curry. Add a teaspoon to your favorite marinades for a bit of spiciness. Produced in Thailand.

Ingredients: SPICE (INCLUDING GREEN CHILI), GARLIC, LEMONGRASS, GALANGAL (THAI GINGER), SALT, ONION, KAFFIR LIME.






Maxine:
a few months ago
When I first moved to a small town 20 years ago, there was only one Thai restaurant, and it was an hour away.
I had to learn to cook my favourite Thai curries myself.
I was lucky to find this curry paste, along with the red and yellow ones from Thai Kitchen. I say lucky but I had to drive an hour away just for the pastes, which I discovered were worth the drive.
They are all very flavourful, but this one's my favourite. It has layers of flavourful ingredients, including ones that are spicy and tangy.
I sauté my chosen vegetables and meat, add fresh garlic, ginger, canned coconut milk, a splash of fish sauce, sometimes lemongrass,and a nice dollop of the green curry sauce. Grated lime rind and the juice of fresh lime finish the curry.
Sometimes, I add smaller amounts of the red and yellow curry paste, to give an even more complex flavour.
I have been told that my Thai curries are better than most restaurants, which has a lot to do with Thai Kitchen curry pastes.
1