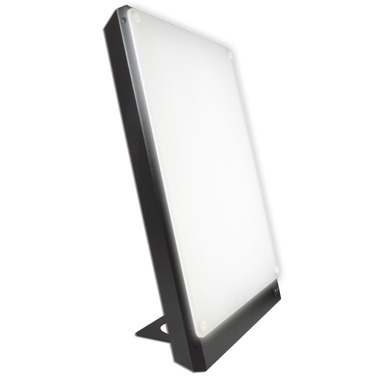 Description
Finally, a stylish looking light box that will light up any room in more ways than one. The Boxelite is an affordable light box that emits diffuse light through the large front panel measuring 12 inches x 15 inches. This highly efficient unit draws only 85 watts, yet delivers 10,000 lux . The Boxelite is clinician recommended for the treatment of seasonal affective disorder (S.A.D.) but may also be used at the office or for any task that requires bright lighting. Provides effective light therapy treatment in as little as 20 to 30 minutes a day.
Features:
All-metal quality construction
Includes stand
Electronically powered – no flicker & no hum
No UV & no magnetic field
Power : Universal – Lamp automatically selects from 110-270 volts, 50 or 60 hz.
7 years unlimited warranty
60 days money back guarantee(Full refund of total paid less $35 restocking fee)
Tips: Use the light regularly at about the same time each day. Also try to spend time outdoors during sunnyperiods. Eat sensibly, exercise and try to keep regular wake-sleep hours.
Shipping & Returns