The Honest Company Overnight Diapers Sleepy Sheep
The Honest Company Overnight Diapers Sleepy Sheep
is rated out of
5
by
7
.
The Honest Company has got you covered with their overnight diapers that help protect baby's delicate skin with up to 12 hours of advanced wetness protection! These nighttime diapers are designed with a super-absorbent core that provides up to 12 hours of protection for a blissful night's sleep.
Features:
Night Absorb Core: Super absorbent to help keep baby dry all night with up to 12 hours of advanced protection. Fast-absorption core features plant-based materials.
Gentle Comfort Liner: Ultra soft-touch liner made without fragrances to be gentle on baby's delicate skin
Honestly SecureTM Fit: Soft, stretchy side panels, comfy elastic waistband, sure-fit leg cuffs and fastening tabs - sweet dreams!
Eco-Friendly Materials: Plant-based core with sustainably harvested fluff pulp and plant-derived materials
Designed in California. Made in Canada, Mexico.
Lie your baby down on their back, on a safe, flat surface, and lift them gently to place the overnight diaper under them. Bring the diaper front over and up to your baby's stomach, and use the diaper tabs to fasten securely. To minimize leaks, make sure the overnight diaper's leg cuffs are pulled out, rather than tucked in.
Ingredients: Absorbent Bio-Core [Totally Chlorine-Free (TCF) Wood Pulp From Sustainably Managed Forests, Bio-Based Polymer From Wheat Starch Blended With Sodium Polyacrylate], Outer Layer (Plant-Based PLA), Inner Layer (Polypropylene), Leg/Waist System (Polymer Spandex & Polypropylene), Adhesives In Seams & Joints, Super-Cute Design on Backsheet (Ink)
CAUTION: To avoid risk of suffocation, keep this packaging away from babies and children. Choking may result from anything babies put in their mouths. To avoid risk of choking, do not allow baby to tear the diaper. Like any piece of clothing, diapers are flammable.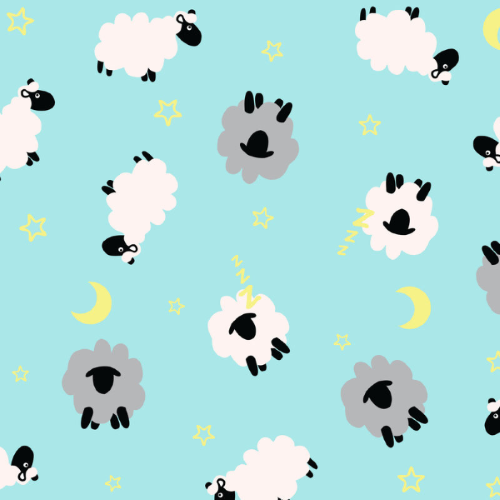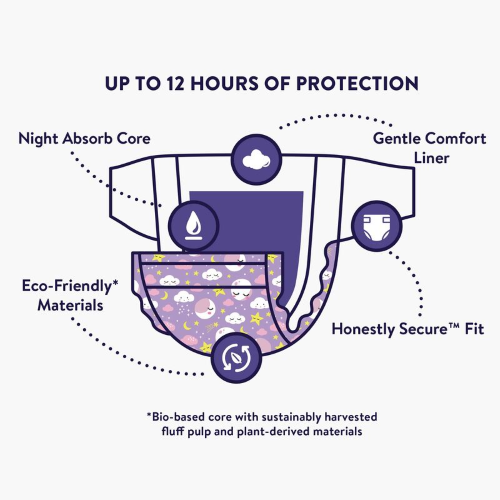 Other The Honest Company Products
Rated

1

out of

5
by
Rissa
from
Leak leaving Baby Upset
I've tried these at various times of the day, adjusted them and no matter what they keep leaking. I really wanted these to work but these are the worst diapers I've gotten. They leak to the point where she wakes up furious with a bad diaper blow out (change sheets, her clothing, yourself etc..). The original honest diapers work much better for us.
Date published: 2020-08-23
Rated

5

out of

5
by
Jess
from
Our Favorite Nightime Diapers
We love other Honest Company products, so I was excited to try these nighttime diapers, and they are exactly what I expected. Super soft, a great fit, absorbent and no leaks! Oh and can't forget the adorable patterns, my daughter loves to put on the sheep ones and say "BAA BAA". A little pricy but will buy again for sure!
Date published: 2021-07-27
Rated

5

out of

5
by
Merbert
from
Really Makes a Difference
Love these diapers, I've noticed a significant improvement in how much my little one sleeps overnight. We went from only 3 hour stretches to up to 8 hours. Very absorbent and haven't had any problems with leaks.
Date published: 2021-02-16
Rated

5

out of

5
by
Goatlady19
from
Seem to work great
My LO isn't a super heavy wetter but he will wake up if he notices he's wet and these seem to work great and let him sleep 10-12 hours through the night and we have never had a leak.
Date published: 2021-01-06
Rated

5

out of

5
by
SE
from
Overnight diapers are the way to go
No more overnight leaks ! I wish I would have started overnight diapers earlier...and we love honest baby diapers and wipes.
Date published: 2022-06-17
Rated

5

out of

5
by
SS
from
Work amazing
These have been amazing as overnight diapers to prevent leaks! Regular diapers weren't lasting the night and these have!
Date published: 2020-09-10
Rated

5

out of

5
by
Lindsay56
from
Great Diaper
We've had no night time leaks using these diapers, would definitely recommend!
Date published: 2020-04-30