The Honest Company Overnight Diapers Club Pack Sleepy Sheep
The Honest Company Overnight Diapers Club Pack Sleepy Sheep
is rated out of
5
by
9
.
The Honest Company has got you covered with their overnight diapers that help protect baby's delicate skin with up to 12 hours of advanced wetness protection! These nighttime diapers are designed with a super-absorbent core that provides up to 12 hours of protection for a blissful night's sleep.
Features:
Night Absorb Core: Super absorbent to help keep baby dry all night with up to 12 hours of advanced protection. Fast-absorption core features plant-based materials.
Gentle Comfort Liner: Ultra soft-touch liner made without fragrances to be gentle on baby's delicate skin
Honestly SecureTM Fit: Soft, stretchy side panels, comfy elastic waistband, sure-fit leg cuffs and fastening tabs - sweet dreams!
Eco-Friendly Materials: Plant-based core with sustainably harvested fluff pulp and plant-derived materials
Designed in California. Made in Canada, Mexico.
Lie your baby down on their back, on a safe, flat surface, and lift them gently to place the overnight diaper under them. Bring the diaper front over and up to your baby's stomach, and use the diaper tabs to fasten securely. To minimize leaks, make sure the overnight diaper's leg cuffs are pulled out, rather than tucked in.
Ingredients: Absorbent Bio-Core [Totally Chlorine-Free (TCF) Wood Pulp From Sustainably Managed Forests, Bio-Based Polymer From Wheat Starch Blended With Sodium Polyacrylate], Outer Layer (Plant-Based PLA), Inner Layer (Polypropylene), Leg/Waist System (Polymer Spandex & Polypropylene), Adhesives In Seams & Joints, Super-Cute Design on Backsheet (Ink)
CAUTION: To avoid risk of suffocation, keep this packaging away from babies and children. Choking may result from anything babies put in their mouths. To avoid risk of choking, do not allow baby to tear the diaper. Like any piece of clothing, diapers are flammable.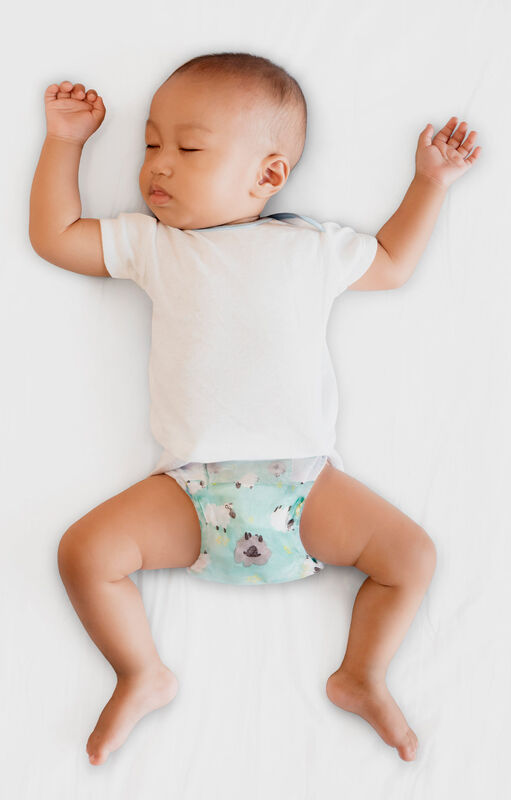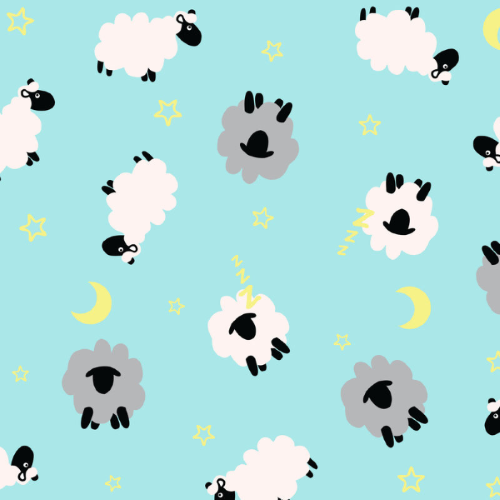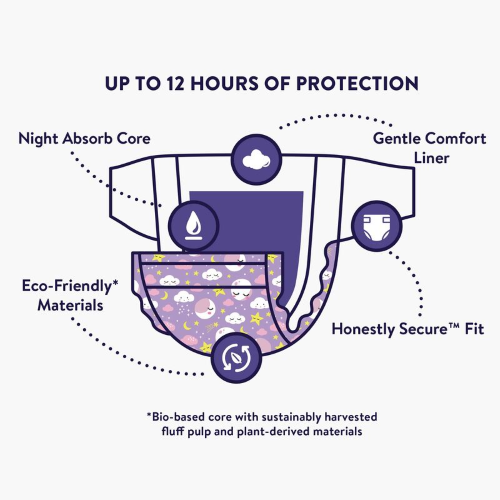 Rated

5

out of

5
by
Jen
from
I can't say enough good things!
I don't know where we'd be without these diapers. We've been using them long since before well that she carried them and I'm so excited I can get them in Canada now ! We seriously stock up when well.ca has sales on these and we make it through 99% of the nights without any leaks !
Date published: 2020-02-10
Rated

5

out of

5
by
Kristine
from
Awesome diapers!
I love these diapers. I've been using these for a few weeks now and they pass the 12 hour test with zero leaks!
Date published: 2020-02-12
Rated

5

out of

5
by
YASMINE
from
Best overnight diapers
We love these overnight diapers. We tried many different brands and found that these are best for our baby.
Date published: 2020-01-30
Rated

5

out of

5
by
Kkv
from
The best!
No other nighttime diapers compare!! These are the best
Date published: 2020-04-19
Rated

4

out of

5
by
Cassandra________
from
Size up! These fit small!
My daughter wears cloth diapers during the day and a disposable for night time. She wears pampers size 4 but I wanted something more natural. These are great. No perfume smell! No leaks so far. They are quite pricey. My only issue is that they fit smaller than pampers. These say they fit 22-27 lbs and my 6 month old is only 18lbs and I don't know if these will fit much longer. I love them otherwise! I'm hoping that they continue to fit and we don't get leaks!
Date published: 2020-05-19
Rated

5

out of

5
by
AP
from
The BEST overnight diapers
Hands down the best overnight diapers! Our little one sleeps 12h a night and used to wake up super wet. We tried other brands, but nothing compares. Highly recommended... well worth the price!
Date published: 2020-07-30
Rated

5

out of

5
by
Tam
from
Love them!
Honestly the best diapers I've found. My kids seems to have a lot of liquid to get out at night! I recommend them over any other.
Date published: 2020-08-03
Rated

5

out of

5
by
AP
from
Keeps baby dry!
Very happy with these! These have done great at keeping baby dry where other diapers have failed.
Date published: 2020-05-16