The Latte Co. Bebe Latte Plant-Based Powdered Beverage 12-24 Months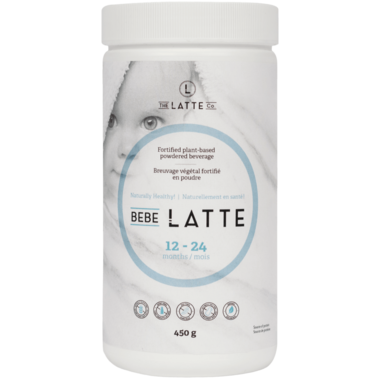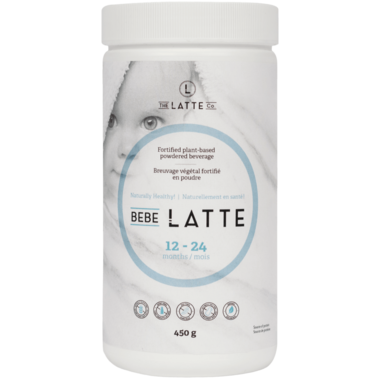 The Latte Co. Bebe Latte Plant-Based Powdered Beverage 12-24 Months
A complete plant-based drink made with natural, organic and high-quality ingredients that meet the specific needs of babies 12 to 24 months. This plant-based drink provides babies with their daily intake of nutrients and vitamins essential for their development. Many parents will be delighted to discover a whole plant-based drink that's a healthy and dairy product alternative.

Features:
Organic
Non-GMO
Dairy Free
Gluten Free
Soy Free
Kosher

A source of vitamins and minerals

No artificial ingredients
STEP 1
Pour 200ml of water in a shaker bottle (important, water first!).
STEP 2
Add 2 scoops (28g total) of Bebe Latte or Kiddo Latte powder as instructed by the product label. They suggest using a mixing ball in your shaker bottle. As nourishing whole-food plant-based drinks, Bebe Latte and Kiddo Latte do not contain any artificial ingredients to help dissolution. Please follow these easy steps to get the smooth consistency you desire.
STEP 3
Close the top of the shaker and make sure it's secure. Shake the shaker bottle vigorously for 30 seconds and then open the lid to check the consistency. If there are still clumps, continue shaking.
STEP 4
Serve.
Ingredients: Fermented rice milk powder* Banana powder* Coconut oil powder* Hemp hearts powder* Pea protein* Flax seeds* Sunflower lecithin Natural Calcium Source (from Phymatolithon calcareum and/or Lithothamnium corrallioides) Fruits and veggie blend (Apple*, Kale*, Broccoli, Spinach, Carrot*, Parsley*, Beetroot*, Green cabbage*, Blueberry*, Raspberry*, Strawberry*, Tomato*, Pumpkin, Sweet Potato, Sunflower Seed, Kelp, Chlorella, Maitake Mushroom, Shiitake Mushroom) Organic sprouted quinoa* Organic vanilla flavour*. *Produced in a nuts free facility. *Some of the wholefoods ingredients might have been in contact with nuts or tree nuts.