The Ordinary
The Ordinary Niacinamide 10% + Zinc 1% Value Size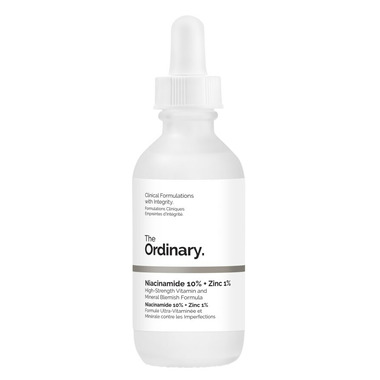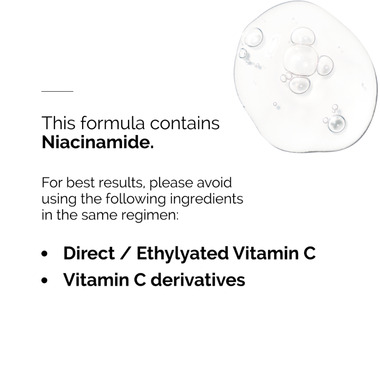 The Ordinary
The Ordinary Niacinamide 10% + Zinc 1% Value Size
60 mL
The Ordinary Niacinamide 10% + Zinc 1% Value Size
is rated out of
5
by
69
.
---
Description
Niacinamide (Vitamin B3) is indicated to help to reduce the appearance of skin blemishes and congestion. A high 10% concentration of this vitamin is supported in the formula by zinc salt of pyrrolidone carboxylic acid to balance visible aspects of sebum activity.
Directions:
Apply to entire face morning and evening before heavier creams.
Contradictions:
This formula contains Niacinamide. For best results, please avoid using the following ingredients in the same regimen:
Direct/Ethylyated Vitmain C
Vitmain C derivatives

Notes:
While Niacinamide and Zinc PCA help to reduce the look of blemishes and balance visible sebum activity, neither is a treatment for acne.
Highlights

Ingredients
Aqua (Water), Niacinamide, Pentylene Glycol, Zinc PCA, Dimethyl Isosorbide, Tamarindus Indica Seed Gum, Xanthan gum, Isoceteth-20, Ethoxydiglycol, Phenoxyethanol, Chlorphenesin.
Shipping & Returns
Rated

5

out of

5
by
Nicole K.
from
About to purchase my 2nd Bottle!
I've been using this product Twice a day for about 1.5 months and I love it! I've had acne for probably 10+ years and recently this has help with inflammation, and the redness. For example after you have a pimple and after it heals it's still red and it looks like a pimple even though you know it's not there anymore? This product has helped with erasing those blemishes and red spots. Having tried literally everything when it comes to acne and skincare, I highly recommend this product. Looking forward to exploring the rest of the Ordinary brand.
Date published: 2020-05-14
Rated

5

out of

5
by
retardedrachel
from
This actually worked.
I'm a very, very, very skeptical person, so obviously I wasn't putting too much stock into this product. That being said, it actually WORKS. I've been putting it on my face twice a day for a month now and the frown lines that I was not appreciating have faded to almost nothing. The fine lines aren't totally gone, but they are only noticeable if you're looking for them very closely now, as opposed to being the first thing you see. Disclaimer: I did experience the "purge" that you read about if you research this product, but it only lasted a couple weeks or so, and now my face is smooth and blemish free. Happy customer right here.
Date published: 2021-02-15
Rated

5

out of

5
by
Julie B
from
Must have
I have always had acne prone skin and this is the first thing I've come across that actually clears my skin I'm 47 years old and this is the longest I've gone with out a breakout ever... My sensitive skin would often break out just from the harsh acne products Wish I had this 40 years ago
Date published: 2020-02-29
Rated

3

out of

5
by
HBcanada
from
Wanted to love this product so badly
I started using this product 6 weeks ago along with the squalane cleanser and the moisturizer with HA. I really wanted to love these products. At first everything felt great my skin was feeling good, hydrated and smooth. However, now 6 weeks later I am beginning to breakout more than I feel I did before this routine. Maybe this combination isn't for my skin. I may try to remove the cleanser, and use only the moisturizer and see how my skin reacts. Then add back in the niacinamide and re-evaluate. Perhaps it was to much change for my skin all at once? Has anyone else noticed words breakouts around 6 weeks of use? Up until now my skin seemed steadily the same/slightly better.
Date published: 2020-01-26
Rated

5

out of

5
by
Sammi
from
Really helps oily skin
I really love this stuff! I'm 55 but still have really oily skin. I apply this on my face after showering each morning. It feels very light but soothing. I put my moisturizer on top and then make up. This stuff really helps slow down the oiliness buildup I get over the day. I tried going without it for 2 days just to see if it was my imagination. Nope! This stuff is magic.
Date published: 2020-05-05
Rated

5

out of

5
by
R
from
This is a staple in my skincare routine. I'd say skincare is my main consumer interest, so I'm regularly trying new products. I have combination skin, and I'm just starting to notice the signs of aging on my face. I've been using this daily for years now. It's so cheap, really good quality and will help anyone, regardless of skin type/concern or additional actives being used. It helped even out my skin tone, and reduced oiliness and reduced the visible signs of aging on my face. This particular product is *so* cheap for what it is, contains no fragrance, and is good as the imitators that are triple the price. I'd recommend this for anyone who's starting to get into skincare/actives.
Date published: 2021-05-20
Rated

5

out of

5
by
pproulx
from
A staple for any Skin care routine!
I've been using this product for a little over a year now and have noticed a significant difference! Your skin WILL purge after a few weeks of use and it's normal so don't stop using it if that happens. It will clear up in a week and you'll barely have acne afterwards. I use in combo with the squalene cleanser and the salicylic acid mask.
Date published: 2020-07-17
Rated

5

out of

5
by
Crystal
from
This is my fav Ordinary product! So glad they came out with a larger bottle. I usually put a drop into my moisturizer and smooth over face, neck and chest. Even alone the formula is not too sticky. I have and will repurchase this many times over. I definitely recommend this product!
Date published: 2019-11-05