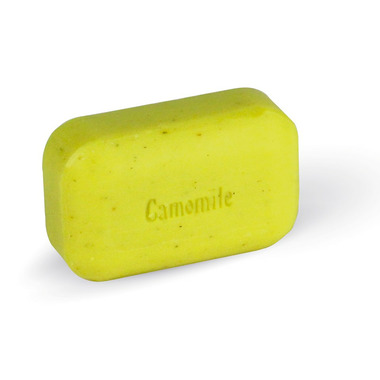 110 g
The Soap Works Camomile Soap
is rated out of
5
by
35
.
---
Description
The Soap Works Camomile Soap is a soothing herbal treatment for oily skin. Naturally scented and contains real camomile flowers, the dried camomile flowers give the soap a peppery, herbal aroma. It is excellent for oily skin and soothing damaged skin.

Features:
Vegan
Gluten Free
Not tested on animals
DOES NOT contain sodium laurel, lauryl or laureth sulphate
Phosphate free
Comes without packaging
Ingredients:
Sodium Palmate, Sodium Palm Kernelate, Palm Kernel Acid, Glycerin, Sodium Chloride, Anthemis Nobilis Flower Extract (Chamomile flower), Beta Carotene Colour, Yellow Iron Oxide, Parfum (Orange*, Clove*, Cedarleaf*, Rosemary*)
*Essential oils
Highlights

Rated

4

out of

5
by
Sylvia
from
This soap is moisturizing and doesn't leave a residue on my skin. I love the natural ingredients list and the inclusion of real chamomile flowers in the bar. However, the flowery-herbal smell, although pleasant, was a bit strong for my tastes. In the end, I prefer the cucumber and calendula bar.
Date published: 2017-02-25
Rated

4

out of

5
by
Fiona
from
Very nice soap to use, but, surprisingly for a soap that is chamomile-based, it has a very stong and not entirely pleasant smell to it. Considering how mild and delicate chamomile flowers are, and having used a nice chamomile shampoo before, I was surprised at this.
Date published: 2013-10-30
Rated

5

out of

5
by
Kugan
from
I'm really impressed with this soap! I recently started using the Aloe Vera & Vitamin E Soap Bar from The Soap Works Sops and absolutely loved it so I thought I'd try another product by them and this is also one of the best product too. I have oily skin, Wow! From the first use I fell in love! My skin felt SUPER clean, soothing and extremely moisturized,.The scent relaxes me. One of the Best organic bar I've ever purchased.Definitely recommend!
Date published: 2018-09-16
Rated

5

out of

5
by
Karen
from
I love these soaps by Soap Works. This chamomile quite wonderful. I have sensitive skin and this calms redness for me. I pair it with the tea tree one to clean any bacteria, and this right after to soothe. Great soaps for a really wonderful price. I keep chamomile soap to wash hands too. It is less irritating for me as I garden a lot. Hands get dry, but this cleans and feels great too.
Date published: 2019-04-05
Rated

5

out of

5
by
Leslie
from
I've been using Soap Works soaps for years, but only tried the Camomile one recently. So mad at myself for waiting so long! I have very oily and acne prone skin and find that most soaps and/or face washes I use are either too drying or too moisturizing for my oily skin. This soap surprised me as it left my face feeling clean and soft, but not dry or oily. I use it in the shower now too. I also love the smell. It smells like vanilla to me for some reason - I love it!
Date published: 2019-07-06
Rated

5

out of

5
by
Maggie
from
I usually don't like any bar soaps because they make my skin feel tight after drying off. But I wanted to find an alternative to body washes. I tried this and I really love it! It cleanses well, moisturizes my skin, smells amazing and doesn't leave that gross tight feeling on my skin after. Will buy this again and will try all the other kinds from this company. Very happy!
Date published: 2014-07-15
Rated

5

out of

5
by
Frais
from
Smells wonderful! My husband wanted to try an all natural soap better for the body sans chemicals. He tried this and I absolutely love the smell. It's Sooo delicious. I can't keep my hands off of him now. His new name is Ooooo Camo-mile ;D ABSOLUTE MUST TRY.
Date published: 2014-09-01
Rated

5

out of

5
by
Rathika
from
This product is awesome!!! It's well worth the price to have a great, natural product that works wonders:).highly moisturizing and enrich and renew oily skin, smells wonderful. I'm very happy with it and can't live without it' Highly Recommended!
Date published: 2018-09-16