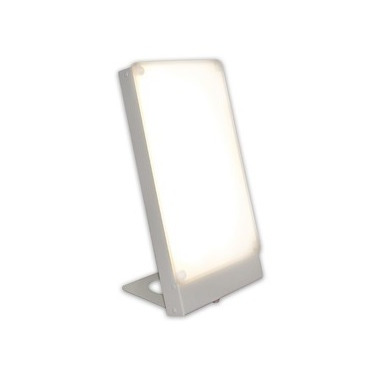 Compact Light Box
1 Count
---
Description
The TRAVelite, a compact and versatile lightbox, fits in a briefcase and weighs only 2.2 lbs (1kg.).
Use it in the office, at home, or while traveling. The TRAVelite will let you enjoy the light in a variety of situations.
Comes with a stand that allows the lamp to be used horizontally or vertically.

Features include:
All-metal quality construction
Ultra compact
CSA safety approved unit
Electronically powered - no flicker & no hum
No UV & no magnetic field
Less than 50 Watts power consumption
Power : Universal - Lamp automatically selects from 110-270 volts, 50 or 60 hz.

Recommended Usage:
If sitting away from the TRAVelite between 10-12 inches, use lamp daily for 20-30 minutes. If sitting away from the TRAVelite at 18 inches, use lamp daily for one hour. Best used in the morning.
Light intensity :
5 to 6,000 lux at 40 cm (15 inches)
10,000 lux at 25 cm (10 inches)
We're sorry, this item is ineligible for Free Samples.
Shipping & Returns
Unfortunately, due to the nature of this item, we cannot accept any returns.
This product cannot be shipped to Remote locations.
This item ships from the manufacturer.
Click here for more information