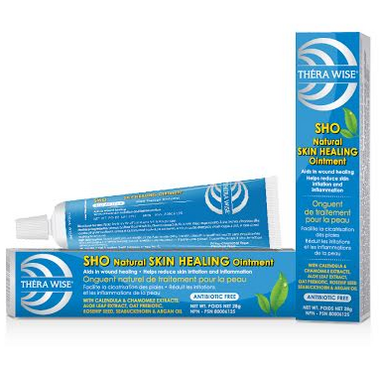 28 g
Thera Wise SHO Skin Healing Ointment
is rated out of
5
by
25
.
---
Description
Aids in wound healing.
Reduce skin irritation and inflammation.
Antibacterial properties.

A Wise alternative to corticosteroids, anti-itch and antibacterial ointment.

Contains:
Calendula Extract, Organic Chamomile Extract, Burdock Root Extract, Barley Beta-Glucan Concentrate, Organic Rose Hip Seed Oil, Soya Sterols, Seabuckthorn Berry Oil, Organic Aloe Extract, Argania Spinosa (Argan) Oil (Containing- EFA's , Tocopherol and Phytosterols), Organic Tea Tree Oil, Vitamin A, C, E, Olive Oil Emulsifiers and Waxes, Natural Plant Preservatives

Quantity: 28g
Highlights

Shipping & Returns
Rated

5

out of

5
by
Lucy
from
It works every time! One has to be patient for the healing to take place. My skin heals nicely with little or no scarring. When I first saw the item on Well,ca years ago, I called the company (located in Vancouver) that makes the ointment and was pleasantly surprised to be speaking to a person who is very knowledgeable about the ingredients. I always keep a tube in my house.
Date published: 2014-10-22
Rated

4

out of

5
by
Hayley
from
I have a skin condition on my face that causes flaky, itchy, inflamed skin in certain areas. I have been using this product for a few weeks now and it seems to help. The pros: It reduces itching and redness, and a little bit of cream goes a long way. The cons: It takes a while to absorb, so when I'm in a hurry in the morning it is kind of a pain to have to wait to put my make up on. Also, I have to constantly reapply it or the itchy red patches come back in full force. The package says to apply it 3-5 times a day, which isn't realistic since I don't want to put it on top of my make up, so I usually go for twice a day. This obviously wouldn't be an issue for someone whose skin condition wasn't on their face. Overall, I was impressed with the product and the skin condition is way less noticeable so I will continue to use it, and would recommend it.
Date published: 2012-09-03
Rated

5

out of

5
by
Lucy
from
This product really works! It always heals my cut, abrasion, rash, or spot. Give it time by applying it religiously and you'll minimize scarring. It does not contain propylene glycol that is found in most ointments and creams.
Date published: 2016-02-10
Rated

5

out of

5
by
Neil
from
Very effective for clearing up skin problems. I've had a rough patch of skin on one elbow for years. I would tend to pick at it and make it worse. (It was itchy.) SHO cleared it up in a few days. I continue to apply small amounts of SHO to the elbow to prevent the return of the itch. It works like magic on small cuts or scratches.
Date published: 2013-08-23
Rated

5

out of

5
by
Tanya
from
I have eczema as does my daughter and I can't believe how well this stuff works. Mind you, everyone is different as it doesn't work for my son who has a small patch near his leg and this makes it worse. For my daughter and I, it's clears up everything. I am really amazed. I wish they made a larger portion.
Date published: 2015-03-27
Rated

5

out of

5
by
Francesca
from
I love this ointment! It doesn't feel like an ointment, at all. It's not greasy or heavy. It is a great natural alternative to antibiotic creams. I have used it on eczema, boils, cuts, mosquito bites. It is so gentle and effective that you can use it on most skin issues.
Date published: 2018-09-21
Rated

5

out of

5
by
cherie
from
This cream has worked like a charm for my eczema! It is now clearing up as I have found the source of the problem (food allergies) but for a long time this was the only thing I found that worked.
Date published: 2011-08-03
Rated

5

out of

5
by
Kathy
from
Love the ingredients, and it actually smells like ointment (lol). My pierced ears get infected all the time (so many cute earrings... so cheaply made..) and this helps the healing very, very quickly. It also helped with healing a weird patch of dry skin on my forehead! Good stuff :) I keep this in my purse.
Date published: 2014-02-04