Thorne Basic Bone Nutrients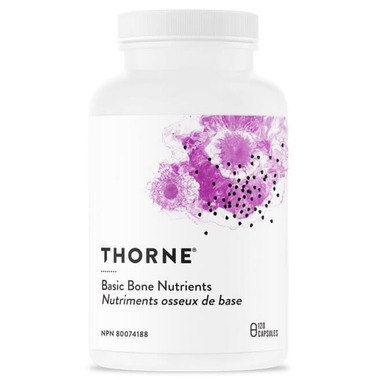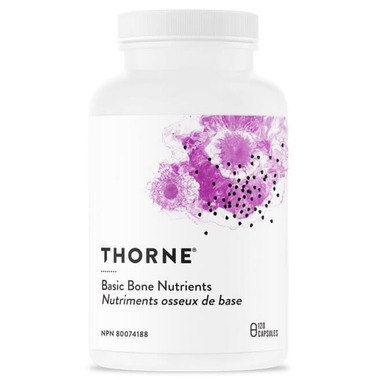 Thorne Basic Bone Nutrients
- We're sorry, this product is no longer available!
- Shop for other products in: Magnesium & Minerals

Vitamin K pairs up with vitamin D, much like magnesium pairs up with calcium. Both vitamin K and magnesium help keep calcium in the bones and out of the blood vessels and other soft tissues. Whenever vitamin D and calcium are being taken by a consumer or prescribed by a practitioner, then vitamin K and magnesium should likewise be included in the daily regimen or protocol.
Thorne has chosen DiCalcium Malate and DiMagnesium Malate for Basic Bone Nutrients because these two forms of calcium and magnesium exhibit a combination of both optimal absorption and optimal concentration. MenaQ7 is soy-free and has been clinically studied and found to be effective for supporting bone health at levels as low as 45 mcg daily.
Features:
The synergy of four highly-researched nutrients that are essential for bone health -now available in one product
The most well-researched form of vitamin K2 (MK-7 as MenaQ7®)
Vitamin D (as vitamin D3) – minus the preservatives and lactose diluents found in many other vitamin D products
Calcium (as DiCalcium Malate) and magnesium (as DiMagnesium Malate) – very well-absorbed forms of calcium and magnesium, in concentrated forms that allow more elemental calcium and magnesium per capsule
Medicinal Ingredients:
Calcium (DiCalcium Malate) (DimaCal®)200 mg
Magnesium (DiMagnesium Malate) (Albion®)50 mg
Vitamin K2 45 mcg
Vitamin D3 (Cholecalciferol) (500 IU) 12.5 mcg
Non-Medicinal Ingredients:
Hypromellose (derived from cellulose) capsule
Calcium Laurate
Microcrystalline Cellulose
Silicon Dioxide
D-alpha Tocopherol
Recommended Dose:
Take 1 capsule two times daily or as recommended by your health professional. Take a few hours before or after taking other medications or natural health products. Take with food.
Risk Information:
Consult your health professional prior to use if you are taking blood thinners. Keep out of reach of children.