Thorne Research EnteroMend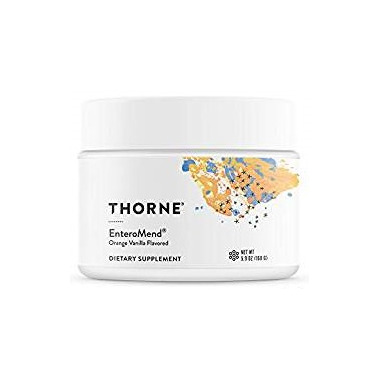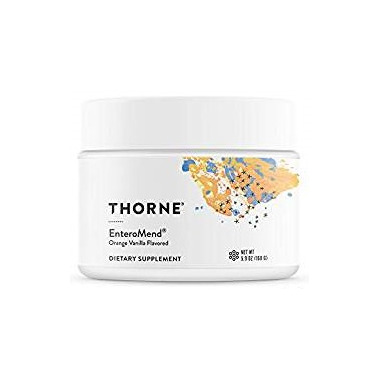 Thorne Research EnteroMend
A unique botanical and amino acid formula for support of intestinal health.
EnteroMend combines the mucosa-protective effects of L-glutamine with highly-absorbable botanical complexes to provide a unique and great-tasting orange-vanilla powder for maintenance of a healthy intestinal tract.

Features:
Meriva® and Casperome® (curcumin and Boswellia phytosomes) for enhanced absorption and to help maintain an already healthy inflammatory response in the GI tract
DaltonMax 700® – a unique 200:1-potency aloe extract that soothes the mucus membranes of the GI tract
Sunfiber® to promote healthy flora, butyrate levels, and bowel regularity
L-Glutamine for support of colonic permeability
Medicinal Ingredients:
One Level Scoop (5.6 g) Contains:
L-Glutamine 2.5 g
Partially Hydrolyzed Guar Gum 1 g
Aloe Vera (Gel, dehydrate powder) (Aloe barbadensis) 250 mg
Curcumin Phytosome (Curcuma longa extract (root)/Phosphatidylcholine complex) 250 mg
Indian Frankincense Phytosome (Boswellia serrata (oleo-gum-resin)/ Phosphatidylcholine complex) 250 mg

Other Ingredients:

Flavors, Citric Acid, Stevia extract (leaf) (Rebaudioside A 95%).
Servings Per Container: 30

Recommended Dose (Adults):
Mix 1 level scoop one to two times daily with 5-6 oz. of water or as recommended by your health-care practitioner.
Warnings:
This product is contraindicated in an individual with a history of hypersensitivity to any of its ingredients. EnteroMend contains curcumin and boswellia phytosomes, plant extracts complexed with phosphatidylcholine, which is derived from soy. Phosphatidylcholine contains no soy protein. There are no other soy-based ingredients in EnteroMend. If pregnant, nursing, or trying to conceive, consult your health-care practitioner before using this product. Curcumin has been shown to reduce the therapeutic efficacy of cyclophosphamide (Cytoxan) in animal studies. In vitro research revealed that curcumin decreased camptothecin-induced death of cultured breast cancer cells. Curcumin might also interfere with the absorption and efficacy of the chemotherapy drug irinotecan, used to treat colon cancer. The concurrent use of curcumin with these agents should be avoided.