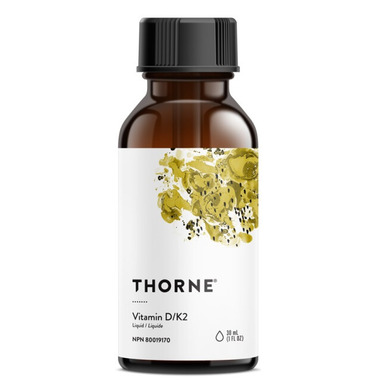 Description
Vitamin K2 is a series of molecules known as menaquinones, some of which are found naturally in fermented soybeans. Thorne Research's vitamin K2 is MK-4, the most common and well studied of the menaquinones. Vitamin K2, working in concert with vitamin D, exerts a more powerful influence on bone than does vitamin K1.
Recommended Dose:
(Adults 19 years and over): Take 1 drop daily or as recommended by a health-care practitioner.
Risk Information:
Consult a health-care practitioner prior to use if you are taking blood thinners
Highlights

Ingredients
Vitamin K2 (Menatetrenone) 100 μg, Vitamin D3 (Cholecalciferol) 12.5 μg. Non-Medicinal Ingredients:Medium Chain Triglycerides, Mixed Tocopherols.
Shipping & Returns