Thorne Research MediClear Plus Protein Powder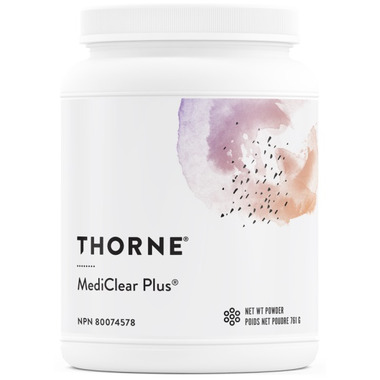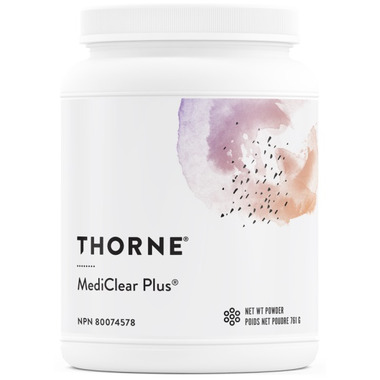 Thorne Research MediClear Plus Protein Powder
MediClear Plus contains all the nutritional benefits of MediClear with the added advantages of curcumin phytosome, grape seed phytosome, and green tea phytosome – all well-absorbed forms of these plant extracts for maintenance of the body's normal inflammatory response.
MediClear Plus uses a vegan blend of rice protein and pea protein. This combination of rice and pea is used because of the low incidence of allergenicity associated with their protein components. It is far more likely for dairy protein or soy protein to initiate an allergic reaction. Using the proteins derived from rice and pea eliminates most allergenic proteins from the diet, while maintaining a high-quality protein intake.
Medicinal Ingredients:

RiceA8:A46 (seed coat of Oryza sativa) (80% protein) 6.25 g
Pea Protein (seed of Pisum sativum) (80% protein) 6.25 g
Glycine (Aminoacetic Acid) 825 mg
Medium Chain Triglycerides 750 mg
(Palm oil (seed of Elaeis guineensis) and Coconut oil
(Cocus nucifera))
L-Glutamine 250 mg
L-Lysine 250 mg
Curcuminoids-Phosphatidylcholine complex 200 mg
(Curcuma longa (root) / Glycine max (soybean))
Vitamin C (Ascorbic Acid) 150 mg
Calcium (Calcium Citrate) 150 mg
Milk Thistle (Silybum marianum) (fruit) 125 mg
Standardized to 65% silymarin (as silybin)
Magnesium (Magnesium Citrate) 75 mg
Taurine 55 mg
Methylsulfonylmethane (MSM) 50 mg
Potassium (Potassium Citrate) 50 mg
Vitamin E (d-Alpha Tocopherol and Mixed Tocopherols Concentrate) (60 IU) 40.2 mg AT
N-Acetyl-L-Cysteine 25 mg
Betaine (Trimethylglycine) 25 mg
Grape Seed Oligomeric Proanthocyanidins-Phosphatidylcholine complex 25 mg
(Vitis vinifera (seed) / Glycine max (soybean))
Standardized to 28% leucocyanidins
Green Tea Polyphenols-Phosphatidylcholine complex 25 mg
(Camellia sinensis leaf extract / Glycine max (soybean))
Standardized to 15% EGCG
Pantothenic Acid (Calcium D-Pantothenate) 25 mg
Vitamin B3 (Nicotinic Acid (4 mg) and Niacinamide (15 mg)) 19 mg
L-Glutathione 12.5 mg
Thiamine (Thiamine Hydrochloride) 6 mg
Choline (Choline Dihydrogen Citrate 5.3 mg
Vitamin B6 (Pyridoxal 5'-Phosphate) 5 mg
Zinc (Zinc Bisglycinate) (TRAACS®)† 5 mg
Riboflavin (Riboflavin 5'-Phosphate Sodium) 2.5 mg
Beta-carotene (all-trans-beta-carotene) (1,500 IU) 900 mcg
Manganese (Manganese (II) Bisglycinate) (TRAACS®)† 750 mcg
Vitamin A (Vitamin A Palmitate) (1,000 IU) 302 mcg RAE
Folate (L-5-Methyltetrahydrofolic Acid, Glucosamine Salt) 150 mcg
Biotin 75 mcg
Chromium (Chromium (III) Nicotinate Glycinate) (TRAACS®)† 50 mcg
Boron (Boron Glycinate) (Bororganic™)†† 50 mcg
Selenium (Selenomethionine) 35 mcg
Lutein (Tagetes erecta) (flower) 30 mcg
Molybdenum (Molybdenum (VI) Bisglycinate) (TRAACS®)† 25 mcg
Vanadium (Vanadium Citrate) 25 mcg
Vitamin B12 (Methylcobalamin) 25 mcg
Vitamin D3 (Cholecalciferol) (200 IU) 5 mcg
Non-Medicinal Ingredient: Silicon Dioxide.
Recommended Dose:
Mix 2 scoops with your favourite beverage and drink once daily, or as recommended by a health-care practitioner. Take with food a few hours before or after taking other medications. Consult a health-care practitioner for use beyond 3 months.

Risk Information:
MediClear Plus is for adult use only. Do not use if you are pregnant or breastfeeding. Zinc supplementation can cause a copper deficiency. Consult a health-care practitioner prior to use if you have a kidney disorder and/or diabetes, or if you are following a low protein diet. Some people may experience mild gastrointestinal bloating, constipation, or indigestion. Consult a health-care practitioner prior to use if you have cystinuria or cardiovascular disease or if you are taking nitroglycerin or antibiotics.