Thorne Research Ultimate E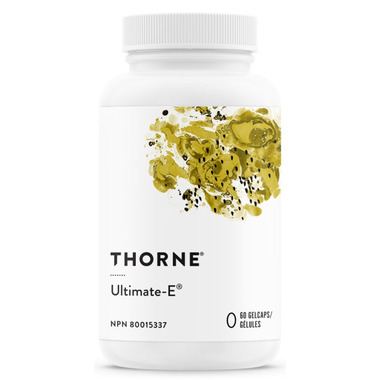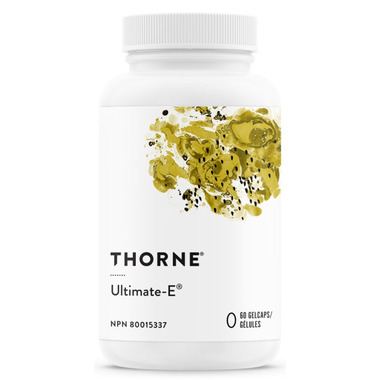 Thorne Research Ultimate E
Ultimate-E contains all of the naturally occurring isomers of vitamin E, which provide protection from free radicals and products of oxygenation, including lipid peroxides and singlet oxygen radicals. Research suggests mixed tocopherols provide greater antioxidant protection.
Medicinal Ingredients:
Per Gelcap:
Vitamin E (as d-Alpha-Tocopherol) (400 IU) 268 mg
Typical Profile of Mixed Tocopherols:
d-Alpha-Tocopherol (100 IU) 67 mg
Beta-tocopherol* 10 mg
Gamma-tocopherol* 425 mg
Delta-tocopherol* 170 mg
*Beta, gamma, and delta tocopherols do not have recognized IU equivalents.
Non-Medicinal Ingredients:
Gelatin (bovine), Purified Water and Glycerin (vegetable source) gelcap, Medium Chain Triglyceride Oil.
Recommended Dose:
Take 1-2 capsules daily or as recommended by a health-care practitioner. For prolonged use consult a health-care practitioner.
Warnings:
For adult use only. Consult a healthcare practitioner prior to use if you have cancer, if you have cardiovascular disease or diabetes, or if you are taking a bloodthinning medication. Keep out of reach of children. Do not use if inner security seal inside the cap is broken. Store tightly sealed in a cool, dry place.