Tide Free & Gentle Laundry Detergent PODS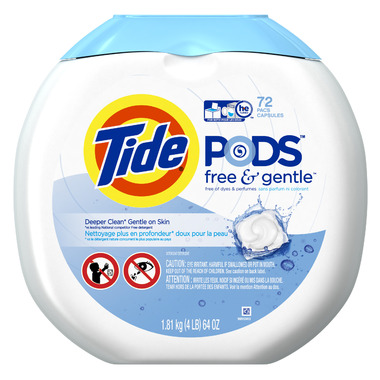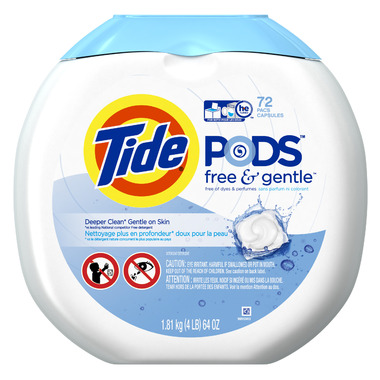 Tide Free & Gentle Laundry Detergent PODS
Taking care of sensitive skin doesn't have to be hard. Each individual pac of Tide PODS Free and Gentle fights stains, brightens fabrics and is specially designed to include no dyes and perfumes.
Simply pop one into your wash to get an outstanding Tide clean in any size load, temperature or machine. For a simple, worry-free laundry experience that's gentle on skin, Tide Pods Free and Gentle will keep your family looking and feeling great.

Features:
Contains zero dyes and zero perfumes
Provides a deeper clean (versus the leading Free detergent) that's gentle on skin
Pop in the washer for a perfectly premeasured amount of laundry detergent in any size load, temperature or machine
Directions:
Handle with dry hands, Add pac to drum, Add clothes, Close package after use
Contains nonionic and anionic surfactants, ethoxylated polyethylene polyamine (polymer) and enzymes.
Caution:
Keep out of the reach of children and pets. Do not put in mouth or ingest. May irritate eyes. Do not get in eyes. Always close container after use. Never handle pac with wet hands. Store in a cool, dry place.