Tommee Tippee All-in-One Newborn Gift Set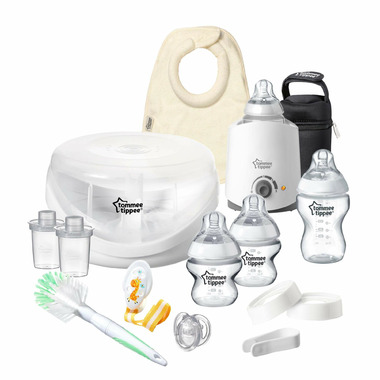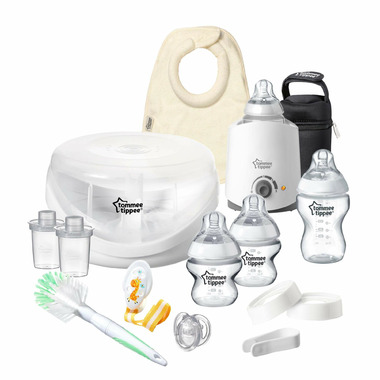 Tommee Tippee All-in-One Newborn Gift Set
Tommee Tippee Closer to Nature starter sets are designed to promote content and easy feeding times. Each baby starter set includes a special selection of Closer to Nature products to take baby from birth through to the transitioning stage. The All in One Newborn Gift Set contains all of the bottles and nipples needed to bottle feed a newborn with confidence.
Tommee Tippee baby bottle sterilizers and warmers are designed to be fast and fuss-free. Feeding accessories like pacifiers/holders, bottle bags, formula dispensers, lids and bottle brushes make feeding baby on the go easier for parents.
Tommee Tippee developed Closer to Nature bottle line knowing babies are happiest when everything works just the way nature intended - especially when they're hungry!
At the heart of the Closer to Nature line Tommee Tippee's award-winning baby bottle, has been specially designed to encourage your baby's natural feeding action.
Features:
Contains Microwave Sterilizer, 2x5 oz., 2x9 oz. bottles (slow flow nipple), Electric Bottle & Food Warmer, 2x Formula Dispensers and Storage Lids, Bib, Bottle Bag, 0-3 mo. Pacifier and Holder, Brush
Compact sterilizer, easy to use for home or travel, sterilizes four bottles in 4 minutes
Easy latch natural feel nipple for smooth transition between breast and bottle for "just like Mom" feedings
Optimum venting valve with slow flow nipple for less air intake and less discomfort for baby
Always BPA and phthalate free