Tranquilo Mat Baby Soothing Mat Large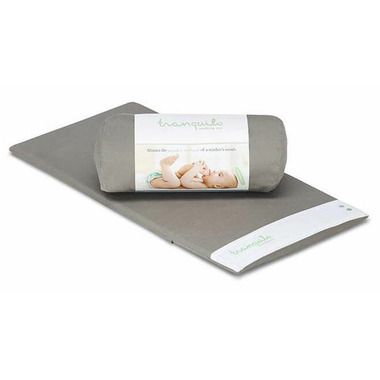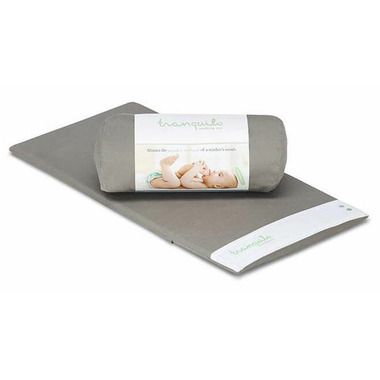 Tranquilo Mat Baby Soothing Mat Large
The Tranquilo Mat helps baby transition from a mother's womb to the world during the "fourth trimester" after birth. No longer snug inside the womb with its soothing constant motion and sound, babies miss the strong "whoosh" of mom's heartbeat and the gentle jostle of every move she makes. The Tranquilo Mat provides the reassurance of the womb by mimicking a mom's heartbeat and motions through gentle vibrations and soft sounds.
The mat soothes baby in the crib, stroller, or on the go! The large mat provides hands-free soothing when placed under a baby on top of a mattress, hard surface, or activity gym. The small mat is the most portable and easy to transfer place to place and can be used with a car seat, placed over the baby's lap after the baby has been properly buckled in. The small Tranquilo Mat allows you to comfort your baby in your arms, or in a carrier or wrap!
The Tranquilo Mat is CPSIA safe and has been tested by a third party laboratory in the USA. The mat is designed to exceed all CPSIA testing and standards. Tranquilo Mat is a National Parenting Center Seal of Approval Winner.
Features:
Invented by a maternity nurse
National Parenting Seal of Approval Winner
Three levels of vibration that can be customized to: low, medium and high
Two heartbeat modes provide waves of sounds: heartbeat 1 and 2
Up to 60 hours of soothing vibrations depending on size
60 minute automatic shut-off
Water resistant interior
Washable and removable 100% cotton cover

Battery operated and cord- free

Wherever baby goes, the Tranquilo Mat follows!
Product Detail:
1.03 pounds
23 1/2 in x 12 in x 3/4 in (12 in x 5 in x 5 in when rolled)
3/4 inches thick (with cover)
Water resistant interior
Removable, washable 100% cotton cover
Powered by 4AA batteries (not included)
One-year limited warranty
Better for large and/or flat spaces