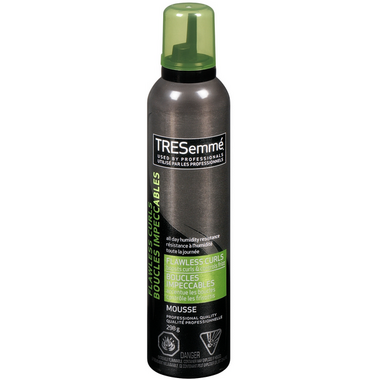 298 g
TRESemme Flawless Curls Mousse
is rated out of
5
by
32
.
---
Description
Don't let humidity put a damper on your curls. Use TRESemmé® Flawless Curls® System of professional hair products to focus on hydrating the driest areas of your curly hair, giving you moisture where you need it most. TRESemmé® mousse is a silky smooth mousse for curly hair that is alcohol-free. With keratin, gelatin, and proteins, you'll achieve enhanced and gorgeous waves for curly hair with added definition without heaviness or stickiness.

This curl-enhancing mousse whips your curls into shape so they'll behave come rain or shine. Curly hair craves hydration, and this product's conditioning formula - which includes keratin, gelatin and proteins - quenches curls' thirst. The silky smooth mousse also enhances your natural waves, adding definition (minus clumping and stickiness).
How to get the perfect curls: Shake can, then dispense a fist sized dollop of Tresemme mousse into your palms. Don't be shy, you'll need more than you think. Press damp curls section by section with your fingers and palm into the shape you want. Run a wide-tooth comb from roots to ends to fully coat your hair with the hair mousse. For firm, natural waves, blow dry hair upside down with a diffuser until nearly dry. Allow time to air dry. To fight frizz and get extra hold, spritz TRESemmé® Curl Locking Styling Spray while you blow dry to set dry hair.
Ingredients: Water (Aqua), Isobutane, Hydrofluorocarbon 152A, VP/VA Copolymer, Propane, Polyquaternium-11, Polysorbate 20, Polyquaternium-4, PVP, Fragrance (Parfum), PPG-12-PEG-50 Lanolin, Olealkonium Chloride, Polyquaternium-7, Sodium Benzoate, Propylene Glycol, Cyclopentasiloxane, Sorbitol, Glycerin, Cocamidopropyl Betaine, Cyclohexasiloxane, Gelatin/Keratin Amino Acids/Lysine Hydroxypropyltrimonium Chloride

Shipping & Returns
Rated

1

out of

5
by
MJ6425
from
Stinging new smell
You've changed the formula and it's awful. I've used this product for years; it used to smell like coconut but now it smells like floor cleaner and stings your eyes and nose. It's just awful! Shame on you for going with what is, no doubt, a cheaper, version.
Date published: 2018-12-08
Rated

5

out of

5
by
indul_gence
from
(This review was collected as part of a promotion.) I'm such a geek, but I think I've tried every TRESemme product since due to it's affordable price point and effectiveness. I like to apply the TRESemme Flawless Curls Mousse on damp hair, and let it sit for a couple of minutes before applying my curling wand on it. I feel like it even protects my hair against the heat, and of course locks the curls in place. The only thing I'd change about it is its scent. Not a big fan.
Date published: 2016-08-26
Rated

4

out of

5
by
HappyGlowLucky
from
(This review was collected as part of a promotion.) I have naturally wavy hair that I sometimes like to brush out and try and make straight, and sometimes like to scrunch up and make curlier. My hair is also really long, which seems to pull some of the curl out, which means I need a mousee or something to get the curl to stay in....and this did the trick! I like that the scent wasn't too strong, and that it didn't make my hair fake looking and stiff and crunchy.
Date published: 2016-08-26
Rated

4

out of

5
by
Sanderson77
from
(This review was collected as part of a promotion.) I don't typically stick with one product for my curls, switching each time I purchase. That said, I do often come back to this one because I know that it's reliable and makes my curls nice and bouncy. I don't like that it gets crunchy near the roots, but that's easily corrected with a little bit of a tousle. Overall it's a great product and you get more in the bottle than others in the same price category!
Date published: 2016-08-29
Rated

5

out of

5
by
Angelwingsx2
from
(This review was collected as part of a promotion.) I always use Mousse in my hair because of its fineness and it just falls very limp when I try to style it.TRESemme' Flawless Curls Mousse works great on my hair to give it that, volume that my hair is lacking so badly.It doesn't make my hair feel sticky or crunchy it just conditions and adds hydration to the curl when I do my hair for an outing.This Mousse doesn't weigh my hair down it just ,gives it volume and body.I like that the texture of this Mousse is silky smooth and doesn't clump your hair when putting it on.It just leaves the curls flawless with a little bounce to it and,another thing about this mousse is that it smells nice.Not a strong scent but very mild.I would recommend to other Ladies to give this product at least a try,I don't think you will feel sorry you did and the price is not expensive at all.
Date published: 2016-09-08
Rated

5

out of

5
by
Leah
from
I just started using this product with my 3C curly hair and really like it. My hair is surprisingly fine even though it's curly and mousse works so much better than creams and lotions because it doesn't weigh down my hair. Really like using this product so far. I usually let the mousse dry in my hair and then shake it out and that softens the mousse and adds volume ;)
Date published: 2016-05-10
Rated

4

out of

5
by
ashleyqc
from
(This review was collected as part of a promotion.) If I'm keeping my wavy hair down and want to emphasize the curls, this mousse is perfect. It isn't heavy or sticky feeling, and you don't need a lot. Gives good texture to your hair, and helps define the curls. I found the bottle didn't last as long as other brands I've bought, but otherwise it's a solid thumbs up!
Date published: 2016-08-25
Rated

5

out of

5
by
Disc_dido
from
(This review was collected as part of a promotion.) Just like the hairspray, if you need a hair mousse thats cheap and can do it's job, this is the product for you!! I've been using this for years and will continue to do so! It smells good and can hold hair curls/waves throughout the night! Have been using it for more than 5 years and will continue to do so!
Date published: 2016-10-22