TRESemme TRES Two Extra Hold Hair Spray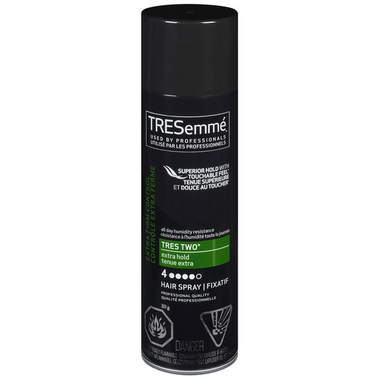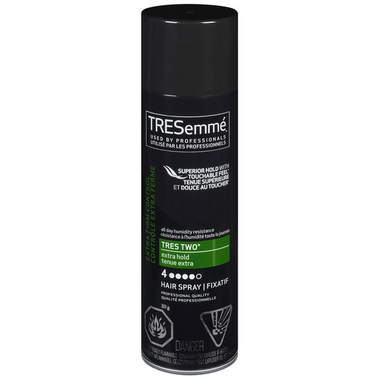 TRESemme TRES Two Extra Hold Hair Spray
Achieve maximum hold with extra flyaway control. This styling product leaves no stiffness or stickiness. Waterfree, it gives humidity resistance and a flexible hold.

How it Works

The Formulation: Stylists went through countless bottles at Mercedes Benz Fashion Week because this hairspray is humidity-resistant, never sticky and sprays on dry.

The Effect: All your hairstyles will be frizz-free and with all the grip and control you need all day.

How to Use:

1. Hold hairspray 25-30 cm (10-12 inches) away from your dry hair (closer will leave hair wet), and spray one section at a time.
2. For stronger hold, don't spray closer, but rather layer more coats just where you want more control.
3. For maximum fullness, flip your hair upside down and mist all over to set.
(As an added bonus, spritz this styling product on your clothes to keep them static-free)

What's in the Box: TRES Two Extra Hold Hairspray, 311 g.

More in the TRES Two Collection
TRESemmé TRES Two Extra Hold Hair Spray
TRESemmé TRES Two Ultra-Fine Mist Hair Spray
TRESemmé TRES Two Freeze Hold Aerosol Hair Spray
TRESemmé TRES Two Extra Hold Hair Spray Unscented
TRESemmé TRES Two Super Hold Non-Aerosol Hair Spray
TRESemmé TRES Extra-Firm Control Mousse
TRESemmé TRES Ultra Firm Control Gel


Selena:
more than a year ago
This hairspray works great for getting rid of flyaways and keeping hair in it's place for most/all of the day. It is stiff, but that is to be expected as it is an 'extra-hold' hairspray; it works best for up-dos. It is not sticky and does not make hair look greasy/etc if it is sprayed properly (not too close to the head). Also, the smell is not too bad and fades well enough over time as to not be bothersome.
Nora:
more than a year ago
This hairspray got a very good critism from the magazines and i approuve it. The only con is, when your on a VERY windy day, the part where u spray the less with have frizz even if it doesnt loose it shape.

That mean, if you dont want frizz, you have to spray more but like i dont really appreciate too much things on my hair, i always have to reduce the frizz with water. Overal, the smell is great, the hold is ok and doesnt make your hair look stiff but kinda when you touch it.
Page
1