Trojan
Trojan Bareskin Lubricated Latex Condoms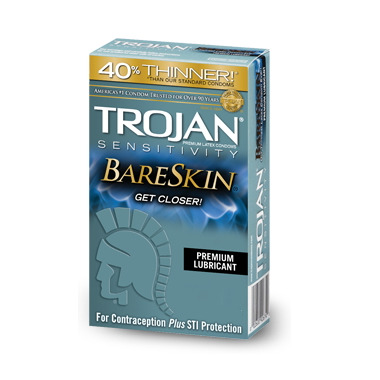 Trojan
Trojan Bareskin Lubricated Latex Condoms
Description
TROJAN BareSkin Lubricated Latex Condoms are over 40 percent thinner than standard condoms for a more natural feel. No other TROJAN condom gets you this close. BareSkin condoms feature a silky smooth lubricant for extra comfort and sensitivity. Each condom is made from a premium quality latex with a low odour for an enhanced intimate experience.

Features:
Trojan's thinnest condom ever from Canada's #1 Condom Brand
Specially designed to help you feel closer and get closer!
BareSkin lubricated condoms are 40 percent thinner than standard condoms
Premium quality low-odour latex helps ensure reliability and reduce the risk
Electronically tested for strength to help ensure reliability
Condoms also feature a special reservoir end for extra safety. Every condom is individually electronically tested and meets North American standards for strength to help ensure its reliability. Latex condoms are intended to prevent pregnancy, HIV/AIDS, and other sexually transmitted infections (STIs). THIS PRODUCT CONTAINS NATURAL RUBBER LATEX which may cause allergic reactions including anaphylactic shock if user is allergic to latex.
Shipping & Returns