Trojan
Trojan Magnum Large Size Lubricated Latex Condoms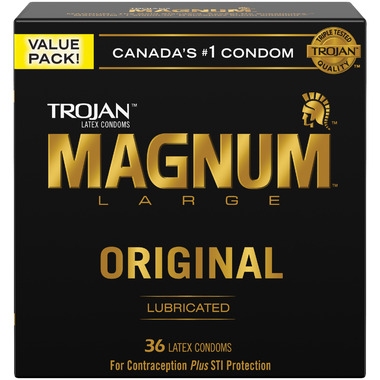 Trojan
Trojan Magnum Large Size Lubricated Latex Condoms
Description
TROJAN Magnum Condoms are larger than standard size latex condoms for extra comfort. They're perfect for men who find standard condoms restrictive and uncomfortable. Their comfort-enhancing design is tapered at the base for a secure fit and features a special reservoir tip for added safety. Magnum condoms have a silky smooth lubricant for extra comfort and sensitivity. Each condom is made from a premium quality latex for an enhanced intimate experience.
Features:

Magnum Lubricated condoms are THE GOLD STANDARD in comfort and protection.

TROJAN Magnum Condoms are larger in size for added comfort.

Tapered at the base for a secure fit.

Features silky smooth lubricant for comfort and sensitivity.

Electronically tested for strength to help ensure reliability.
Caution: This Product Contains Natural Rubber Latex Which May Cause Allergic Reactions Including Anaphylactic Shock If User Is Allergic To Latex.
Shipping & Returns