Trophic
Trophic Bulgarian Tribulus-Extra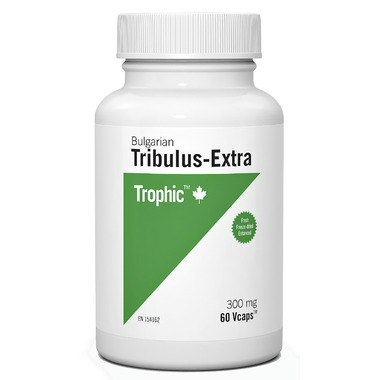 Trophic
Trophic Bulgarian Tribulus-Extra
Description
Trophic Bulgarian Tribulus Extra is helpful in the maintenance of a healthy reproductive system and libido in men. The formula helps nourish the reproductive systems and soothes the central nervous system, while enchanting sexual potency with increased peripheral circulation. Trophic's Bulgarian Tribulus Extra provides nutritional support for the male reproductive and endocrine systems. Bulgarian Tribulus is typically used to increase athletic performance, testosterone, sperm counts, sexual desire and potency in men. Ginkgo biloba is thought to increase circulation both to the brain and the genitals. Saw palmetto and lycopene both help reproductive health and protection. North American ginseng (BC grown) enhances endocrine function. Fresh freeze-drying of the herbs maintains their biologically active constituents for highest potency and action.
Recommended Use:
A herbal combination to promote healthy sexual function in men. Tribulus Terrestris promotes healthy sexual function in men by increasing free testosterone.
Directions:
Adults, take 5 Vcaps daily with meals or as recommended by a healthcare practitioner.
Medicinal Ingredients (per capsule):
Bulgarian Tribulus Terrestris (45% Saponins) ... 300 mg
American Ginseng (Panax quinquefolium) ... 100 mg
Saw Palmetto Berry (Fresh Freeze-dried wildcrafted) ... 50 mg
Ginkgo Biloba Leaves (Fresh Freeze-dried wildcrafted) ... 25 mg
Damiana Leaves ... 25 mg
Lycopene (Tomato Extract)... 100 mcg
Non-Medicinal Ingredients:
Cellulose, magnesium stearate.
No added yeast, wheat, soy, gluten, corn, sugar, dairy, artificial colors, preservatives or animal products.
Cautions and Warnings:
Consult a healthcare practitioner prior to use if you are pregnant or breastfeeding; if you have diabetes, hypoglycemia or are taking prescription drugs, particularly steroid medications.
Contraindications:
Do not use Gingko Biloba if you are taking health products that affect blood coagulation (e.g. blood thinners, clotting factor replacements, acetylsalicylic acid, ibuprofen, fish oils, Vitamin E) as this may increase the risk of spontaneous bleeding.
Known Adverse Reactions:
Discontinue treatment if symptoms of headaches, gastric disturbances or rash appear; consult a healthcare practitioner.
Highlights

Shipping & Returns