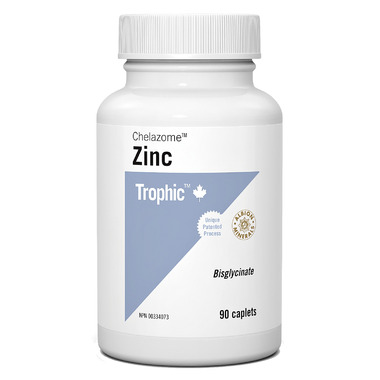 Description
Zinc is an essential trace mineral found in most tissues of the body, specially those in the thyroid and reproductive organs. Zinc is complexed with a variety of peptides, amino acids and enzymes. It plays a crucial role in the synthesis of protein, DNA and RNA and is essential for the normal function of the pancreas and prostate gland and for reproductive organ growth. Zinc has a specific role in protein synthesis, is essential for cell growth and the regeneration of tissue, as well as the utilization of Vitamin B1 and Vitamin A. Zinc is involved in the function of tissue respiration by the intake of oxygen and expulsion of carbon dioxide, such as superoxide dismutase, an antioxidant enzyme which has a role in combating free radicals in the body. Trophic's patented Albion Potassium, chelated with natural amino acids, provides superior biological activity or bioavailability and absorption.
Recommended Use:
Helps in tissue formation. Helps the body to metabolize proteins, fats and carbohydrates.
Directions:
Adults, take 1 caplet daily or as recommended by a healthcare practitioner.
Medicinal Ingredients (per caplet):
Zinc (Bisglycinate)(Amino Acid Chelate) ... 15 mg
Non-Medicinal Ingredients:
Microcrystalline cellulose, magnesium stearate.
No added yeast, wheat, soy, gluten, starch, corn, dairy, sugar, artificial colors, preservatives or animal products.
Cautions and Warnings:
Zinc supplementation can cause copper deficiency. Consult a healthcare practitioner if you are unsure whether or not you are taking adequate amounts of copper. Manufactured under the unique Albion Laboratories' process (patented and patents pending) whereby the minerals are chelated by amino acids, peptides and polypeptides.
Highlights

Shipping & Returns