Trophic Herbal Laxative Plus Yogurt & Licorice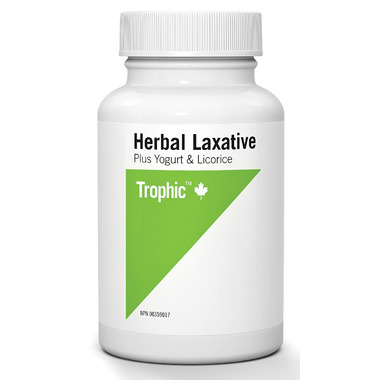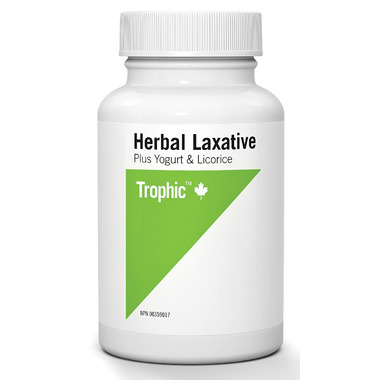 Trophic Herbal Laxative Plus Yogurt & Licorice
- Max: 2
- We're sorry, this product is no longer available!
- Shop for other products in: Fibre & Laxatives

Trophic Herbal Laxative Plus Yogurt & Licorice is an extremely effective natural formula for chronic constipation.
It combines the active ingredients – Senna, Cascara sagrada and Culver's Root – along with yogurt. The yogurt provides a culture of friendly bacteria and probiotic with their many benefits to GI health, while Buchu leaves provide natural support and increase effectiveness.
Directions: Adults, take one tablet before going to bed or as recommended by a healthcare practitioner.


Recommended Use: As laxative.
Each tablet contains:

Senna Leaves (Cassia angustifolia)... 250 mg
Cascara Sagrada Bark (Rhamnus purshiana)... 150 mg
Fennel Seed (Foeniculum vulgare)... 50 mg
Licorice Root (Glycyrrhiza glabra L.) ... 50 mg
Gentian Root (Gentiana lutea L.)...10 mg
Yogurt Powder (Lactobacillus bulgaricus, Lactobacillus - rhamnosus, Streptococcus thermophilus)...10 mg
Juniper Berries (Juniperus communis L.)... 5 mg
Buchu Leaves (Agathosma betulina)... 5 mg

Non-Medicinal Ingredients: Microcrystalline cellulose, hyprolose, croscarmellose sodium, magnesium stearate, silica.
Contains: milk.
Cautions and Warnings: Do not take if you have abdominal pain, nausea or other symptoms of appendicitis. Do not use during pregnancy or lactation.

No added yeast, wheat, corn, soy, gluten, sugar, artificial colors or preservatives.