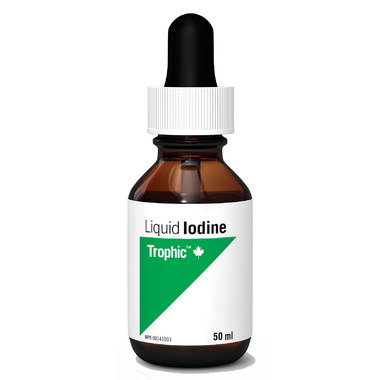 50 mL
Trophic Liquid Iodine
is rated out of
5
by
6
.
---
Description
Iodine is important for energy production and proper growth and development and helps the normal function of the thyroid gland. It is believed to play an important role in regulating the body's production of energy, promoting growth and development and stimulating metabolism. Iodine is an integral part of thyroxine, a key hormone produced by the thyroid gland. The thyroid gland controls metabolism and iodine is required for thyroid function. Deficiency of Iodine results in goiter, obesity, lack of mental energy, lack of pep, skin wrinkling, infections, nervous disturbances.
Recommended Use:
Helps in the normal function of the thyroid gland.

Directions:
Adults, one drop daily with a glass of water or as directed by a healthcare practitioner.
Medicinal Ingredients (per mL): 460 mcg potassium iodide
Non-Medicinal Ingredients:
Glycerine.
No added yeast, wheat, corn, soy, gluten, sugar, dairy, artificial colors or preservatives.
Highlights

Shipping & Returns
Rated

2

out of

5
by
PjM007
from
Question re colour of liquid
I just purchased a new bottle of Trophic Liquid Iodine at a local health food store. The liquid is normally an amber to light brown colour and it normally smells like iodine. This time, there is zero smell, and the liquid is totally clear. It tastes like glycerin, and that is it. Has there been some change to the product? Or is it possible the iodine was possibly missed completely somehow during manufacturing?
Date published: 2021-11-15
Rated

1

out of

5
by
Healthy
from
Something is not right
Similar to another review here, I too had the experience of purchasing a new bottle only to find that the liquid in the bottle is clear. It looks and tastes like glycerin. The liquid in the previous bottle was amber in color, looked and smelled like iodine. Not sure what is going on, but I felt duped.
Date published: 2022-04-07
Rated

5

out of

5
by
HRobert
from
Colorless and almost tasteless
You can taste the iodine in filtered water as well as the gylerin. Iodine is usually colorless when dissolve in a liquid form. As a Solid Iodine is a purplish-blue color. Potasium is added to color the solution in a topical product so you can see it being appled. I hope this helps some of you to understand the differance in products.
Date published: 2022-06-21
Rated

5

out of

5
by
Cangirl
from
Liquid iodine
I have been using this liquid iodine for some time now. Absolutely love it. Keeps my iodine levels in range with no side effects that I have experienced. Liquid form makes it easier for me to take as I have trouble taking lot of vitamins/minerals in pill/tablet form.
Date published: 2021-10-16
Rated

5

out of

5
by
Cangirl
from
Liquid iodine
Can't got out without this liquid iodine. It has the highest concentration per drop that I could find in liquid form. Just need 1 drop a day. Lasts a long time. Tasteless and easy to use.
Date published: 2021-12-29
Rated

4

out of

5
by
Sara
from
Love that is liquid
Taking many different supplements means that where possible, I like to take liquid or powder forms of the supplements. Being able to add this to water, makes it easy to take.
Date published: 2022-01-16