Trophic Reishi Ganoderma Lucidum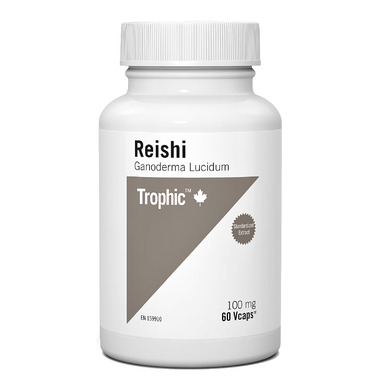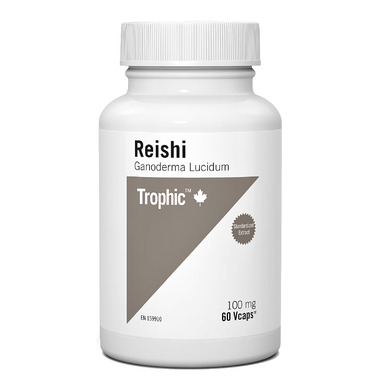 Trophic Reishi Ganoderma Lucidum
Traditionally, Reishi has been used to strengthen and promote the healthy, balanced functioning of certain organs including: the heart, liver, lungs and kidneys. It is thought to enhance respiratory strength and re-establish normal levels of white blood cells, and therefore supports healthy immune function. Reishi has the ability to regulate or balance the immune system. It is also believed to help our bodies lower blood pressure and glucose levels.

Recommended Use:
Strengthens and promotes a healthy heart, liver, lungs and kidneys.
Directions:
Adults, take 1-3 Vcaps daily with water or as recommended by your healthcare practitioner.
Medicinal Ingredients (per capsule):
Red Reishi standardized mushroom extract 15:1 ... 60 mg
Total Triterpenoids ... 4.0%
Total Polysaccharides ... 12.5%
Reishi mushroom mycelia ... 40 mg
Non-Medicinal Ingredients:
Microcrystalline cellulose, cellulose (Vcap).
No added yeast, wheat, soy, corn, dairy, sugar, artificial colors, preservatives or animal products.



Vanessa:
about a year ago
I started taking this occasionally because I learned about the various health benefits of mushrooms. I take it in the morning with my SISU multi, with breakfast. I consistently have more energy on days I take a reishi pill, and perhaps the next day too. I don't take it every day - maybe 3 days a week, especially when I didn't sleep well. Check with your naturopath or TCM for usage, especially if you aren't taking a multi.
Page
1