Tylenol Children's Fever & Pain Suspension Liquid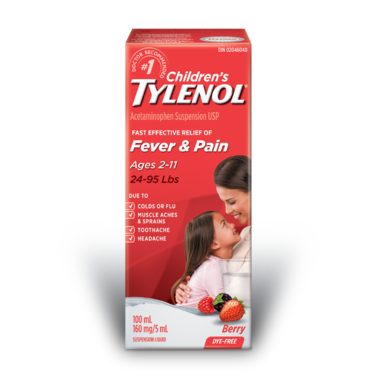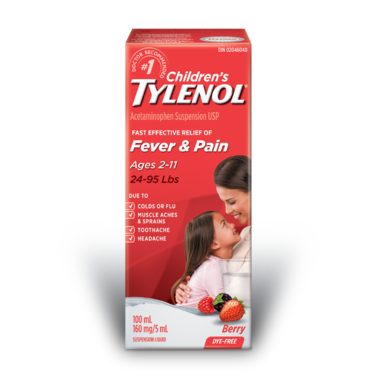 Tylenol Children's Fever & Pain Suspension Liquid
Children's Tylenol Fever & Pain -
When your child is sick all you want to do is make them feel better so they can get back to normal.
For over fifty years, parents and doctors have placed their trust in Children's TYLENOL® for fast, effective relief of fever and pain due to toothaches, immunizations, colds or flu.
Children's TYLENOL® Liquid is available in dye free formulas for children who may be sensitive or allergic to dyes. "Dye Free" also means "Stain Free," so an accidental spill won't ruin the bedding, your child's new outfit or your furniture.
For effective relief of:
Fever




Pain




due to toothaches, immunizations, colds or flu



Dosage:
Use the dosage chart to determine the right dose for your child.
Find the right dose on the chart. If possible, use weight to determine your child's dose, otherwise use age.
The enclosed measuring cup that comes with Children's TYLENOL® Liquids has been specially designed for use with these products. Use only the enclosed measuring cup to dose.
Single dose may be repeated every 4 to 6 hours as needed.
Do not give more than 5 doses per day.
Children's TYLENOL® Liquids are not the same concentration as Infant's TYLENOL® Drops.
Medicinal Ingredients
Pain reliever/Fever reducer: Acetaminophen, 160 mg
Children's TYLENOL® Cherry Liquid (Dye-Free): butylparaben, carboxymethylcellulose sodium, cellulose, citric acid, flavours, glycerin, propylene glycol, propylparaben, purified water, sorbitol, sucralose, sucrose, xanthan gum.