Tylenol
Tylenol Extra Strength Caplets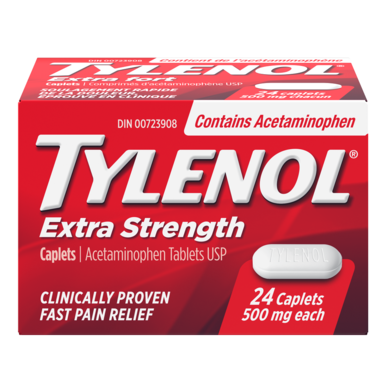 Tylenol
Tylenol Extra Strength Caplets
24 Caplets
Tylenol Extra Strength Caplets
is rated out of
5
by
560
.
---
Description
When you are suffering from aches and pains or a nagging headache, you are not yourself. You want fast, effective relief so that you can get back to normal… whatever your normal is.
Trust Extra Strength Tylenol. Extra Strength Tylenol products are tough on pain, but easy on your stomach, providing the effective relief you need.
For effective relief of:
Headaches
Aches and Pain
Fever
Format:
Caplets
Dosage:
Adults and Children 12 years and older: Take 1 caplet or tablet every 4 – 6 hours. If pain or fever does not respond to 1 caplet or tablet, take 2 caplets or tablets at next dose. Do not take more than 8 caplets or tablets per day.
Medicinal Ingredients:
Medicinal Ingredient: Acetaminophen, 500 mg
Benefit: Pain reliever/Fever reducer
Non-Medicinal Ingredients (alphabetical):
cellulose, corn starch, hypromellose, magnesium stearate, polyethylene glycol, sodium starch glycolate.
Caution:
Keep out of the reach of children. This package contains enough drug to seriously harm a child. Do not use with other drugs containing acetaminophen. Use the smallest effective dose. Do not take more than the maximum daily dose. Overdose may result in severe or possibly fatal liver damage. Do not take if allergic to acetaminophen. Consult a doctor if: Your symptoms last for more than 5 days or fever lasts more than 3 days; You develop allergic reactions such as wheezing, rash or itching. Ask a doctor or pharmacist before use if you: Are pregnant or breastfeeding; Have chronic alcoholism; Have a serious liver or kidney disease; Use any other medications including natural health products, prescription drugs, salicylates or other pain and fever relief medications. In case of overdose, call a Poison Control Centre or doctor immediately, even if you do not notice any possible signs or symptoms such as increased sweating, nausea, vomiting, stomach pain, and loss of appetite. Use only as directed by a doctor.
WARNING: Do not use if carton is open or if printed bottle neck band or inner foil seal is broken. Store at room temperature, 15–30°C (59–86°F).
Should you require consultation with a pharmacist, you may
contact our Well.ca Pharmacist.
Please read the label, warnings and inserts provided by the manufacturer and consult your healthcare professional when purchasing medications or natural health products to be sure the product is right for you.
Shipping & Returns
Unfortunately, due to the nature of this item, we cannot accept any returns.
We are only able to ship this item to Canadian customers.
This item cannot be shipped to Quebec due to provincial pharmacy regulations.
Click here for more information
Rated

5

out of

5
by
Anglewings
from
Good For What Hurts You
I have been taking Tylenol Extra Strengtth now for a few years for pain control and I wouldn't use anything else because,Tylenol Extra Strength is the only one for me.I suffer from a back injury and over the years have tried many pain control Pills but nothing seem to work,some for only a couple of hours and some,not at all.Tylenol is the one for me because,I have real pain and with this ,I need something that will work for me.Sometimes if I got a Headache or feeling miserable for any ailment,I take two Tylenol Extra Strength and within no time,the pain is gone.I would recommend Tylenol Extra Strength for your Aches and Pains and anything else that hurt.
Date published: 2014-10-09
Rated

5

out of

5
by
Anonymous
from
Almost Immediate Relief
I have lower back pain for a while and when the pain was unbearable I took Tylenol and it worked within 20 minutes.
Date published: 2019-03-28
Rated

5

out of

5
by
Anonymous
from
Moderate to severe pain relief
I have osteoarthritis and a torn rotor cuff in my right shoulder! Most of the time taking two extra strength Tylenol helps me for 8 hours or more most day! I do now and then take one extra strength Tylenol with one Tramadol on days I have severe pain as indicated by my pharmacist! This pain killer is a real blessing for my condition either way! Also since having a heart attack at age 63 my doctor has told me that Tylenol is the pain killer of choice! I have experienced no side affects and seem to function well on two to four a day depending on my activity!
Date published: 2020-12-02
Rated

4

out of

5
by
scr274
from
Back Pain Relief
My husband has used this product in the past to help relieve his back and shoulder pain. From our experience, it is effective in pain relief - especially when combined with a drug free remedy such as using hot packs.
Date published: 2016-05-02
Rated

5

out of

5
by
Amma
from
Go to medicine
this painkiller is truly amazing....it works for lots different pains...
Date published: 2017-02-10
Rated

1

out of

5
by
Anonymous
from
Cant keep it down.
Unfortunately I have taken this on numerous occasions for headache, but I cannot keep it down. Seems to upset my stomach. I do not normally have a sensitive stomach, so if you do, this may not work for you.
Date published: 2019-02-05
Rated

5

out of

5
by
tazpc
from
Love the EZ tabs
my go to for pain relief. Works even on my toughest headaches
Date published: 2018-07-04
Rated

5

out of

5
by
Anonymous
from
Helped me deal with sensitive tooth
I had my tooth filled and it was very sensitive and it hurted as well, so i went out to buy whatever painkillers there are, and just decided to buy these since they were pretty cheap and have quite a lot. When i first swallowed the pill, it took about 45 minutes for it to actually start working, pretty long i could say. It worked great stopping my tooth from hurting, but it only lasted about an hour.
Date published: 2018-07-24