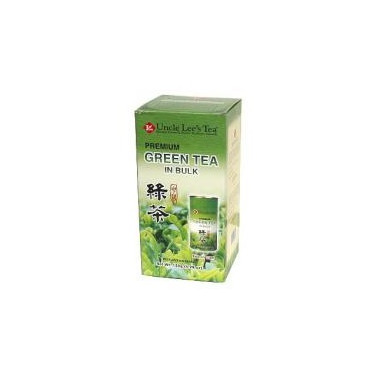 Description
Green Tea, The Healthiest Beverage of Choice for Millions!
For the tea plantation, high in the wild mountains of China, Uncle Lee's brings you the finest Premium Green Tea in bulk. To create this non-fermented tea with it's light green colour and natural sweetness, their tea is hand picked for the choicest leaves. One cup of green tea provides vitamin C, catechins, amino acids and minerals and has 20 to 35 mg of caffeine per serving. Enjoy this high quality beverage from the company that has been making green tea for five generations. To your good health!
Directions: Put approximately one teaspoon of tea leaves ( per cup of tea) in a pot. Pour 8 oz. boiling water over the tea, wait 3-5 minutes, strain and serve. Or, put leaves in mental tea ball and steep for same time. Each box makes approximately 50 to 75 servings.
Ingredients: Premium Green Tea Leaves.
Highlights

Shipping & Returns