Utiva
Utiva Cranberry PACs 30s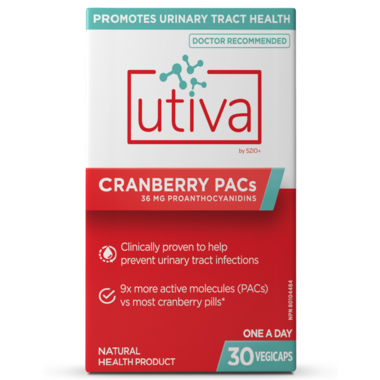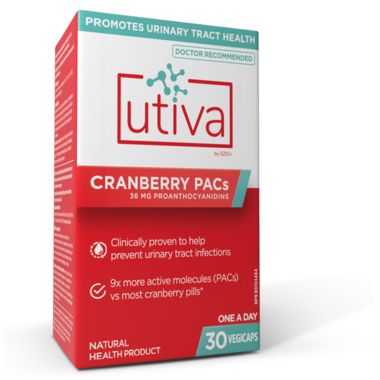 Utiva
Utiva Cranberry PACs 30s
Description
Say goodbye to UTIs – Naturally! The best way to fight UTIs is to prevent them with Utiva once a day! Utiva UTI Control Supplement, by Szio+, is formulated to have 36mg of soluble PACs, or Proanthocyanidins, (bioactive component of cranberries) which is effective in stopping bacteria form sticking and minimizing the likelihood of recurrent urinary tract infections.
Whether you are sexually active, post menopausal or just prone to getting UTIs… Imagine being UTI-free without antibiotics! Being able to reduce your dependence on antibiotics to manage your UTIs can be a real game-changer!
Unlike most cranberry supplements, each small Utiva capsule provides 36mg of soluble PACs at 15% concentration using the DMAC/A2 method.
Recommended Dosage:
Recurrent UTI Prevention:1 capsule daily at the same time
Sex associated UTI Prevention: 2 capsules before/after sex OR 2 capsules the next day OR 1 capsule daily if sexually active
Cautions:
Consult a health care practitioner if symptoms persist or worsen and prior to using if you are taking blood thinners or if you have a history of kidney stones. 3rd Party Lab Tests have confirmed that we removed the Vitamin K and Oxalates from our formulation. This means Utiva minimizes any impact on blood thinners or kidney stones.
Highlights

Features
Doctor Recommendation: Healthcare practitioners from hospitals across Canada recommend Utiva UTI Control Supplement to help prevent UTIs and maintain good urinary tract health.
Clinically Proven: Our main active ingredient are soluble proanthocyanidins (PACs) which are clinically proven to be the bioactive component of cranberries. The recommended dose of 36mg of PACs is necessary to prevent urinary tract infections. Measured by DMAC/A2.
100% Natural: We only use cranberries sourced from North America and produce the product in Canada. Our resulting supplement is vegan, gluten-free, GMO free, halal, and kosher.
High in Antioxidation: Proanthocyanidins (PACs) are known to provide a very high source of antioxidants. Our concentration of PACs help to further promote and maintain good overall health.
Made in Canada: Locally sourced and produced in Canada.
Once a Day: works on a 24 hour cycle so only 1 needed per day
Ingredients
Amount Per Capsule (serving size: 1 capsule) Urophenol - 240mg Cranberry (Vaccinium macrocarpon) fruit extract providing 15% proanthocyanidins (PACs) = 36mg PAC per DMAC/A2 method? ?Daily Value not established Hypromellose, magnesium stearate, rice flour.
Shipping & Returns