Vagisil
Vagisil Odour-Controlling Formula Feminine Wash Fresh Scent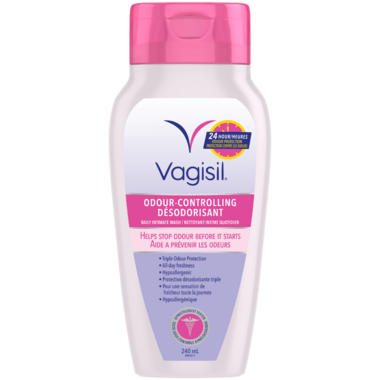 Vagisil
Vagisil Odour-Controlling Formula Feminine Wash Fresh Scent
240 mL
Vagisil Odour-Controlling Formula Feminine Wash Fresh Scent
is rated out of
5
by
32
.
---
Description
Vagisil Wash doesn't just clean away odour, it actually keeps it from happening in the first place. Gentle enough to use everyday. Vagisil, the confident clean.
Features:
Helps stop odor from happening
Hypoallergenic
Soap-free formula
Fresh Scent
Directions: Use a small amount to wash the external area. Rinse well and dry as usual. For external use only. Avoid contact with eyes. If contact occurs, rinse thoroughly with water. Keep out of reach of children.

Shipping & Returns
Unfortunately, due to the nature of this item, we cannot accept any returns.
We are only able to ship this item to Canadian customers.
Click here for more information
Rated

2

out of

5
by
Marie
from
I was personally not impressed wh it. I tried it because my boyfriend's roomate was using this. I do not have any problems and i've always used normal soapsmelling bad wherever I used it bars without any problem. After each use of this product I was ending up feeling uncomfortable. It was very itchy and after a couple of hors I started u . Im pretty sure it could be a very good product but I was very disappointed. I think it all depends on your body's PH..
Date published: 2012-10-04
Rated

5

out of

5
by
Sarah
from
I have been using Summers Eve for YEARS! I just tried this one and it is SOOOO much better. The scent, the texture, the effectiveness, etc. It's all better!
Date published: 2016-02-04
Rated

5

out of

5
by
Janice
from
I just tried this product recently and really like it, I wish I had discovered it earlier!! I will continue to buy this and would recommend it.
Date published: 2016-10-06
Rated

4

out of

5
by
mandy
from
i really like these products... even though i dont have problems that this brand is suppose to help you with or fix, i still love it because i feel extra fresh. i know i smell good... i always hate the not really knowing, you think you smells ok but ur not really sure lol :P also it doesnt stings or anything like that which is nice.
Date published: 2011-03-07
Rated

3

out of

5
by
Alda
from
So sorry but I don`t agree with most of the reviewers. I found this really irritating. The fragrance was nice, but it really burned. Considering it`s supposed to be gentle, I should have given it only 1 star, but because it just might be that I`m unusually sensitive, I`ll give the product the benefit of the doubt. Good luck.
Date published: 2017-11-26
Rated

5

out of

5
by
Erin
from
It is like baby shampoo for down there lol. It does with one quick wash what 3 washes with soap and a cloth can do. Every woman should own this stuff. Don't be embarrassed to own this, I have asked guys and they said if there was a special shampoo for their parts that they'd buy it too haha.
Date published: 2011-04-18
Rated

5

out of

5
by
Sarah
from
I have to say i'm impressed with this product. I was nervous about trying something new on my super sensitive skin which normally is very reactive and allergic, but I had no bad reaction to this and I felt fresh. Definitely going to keep using this.
Date published: 2012-04-02
Rated

4

out of

5
by
A.Z.
from
I like this product, because it seems gentle enough, and I would say that it does seem to keep you feeling clean. I also use it under my armpits, while using regular soap for the rest of my skin, and it is good for that too. I recommend it! :-)
Date published: 2013-01-03