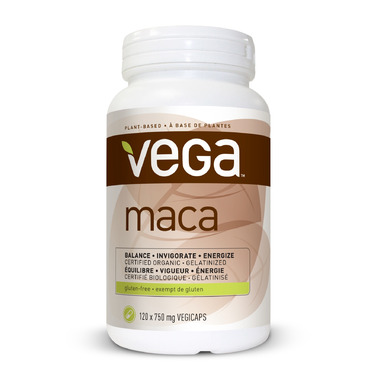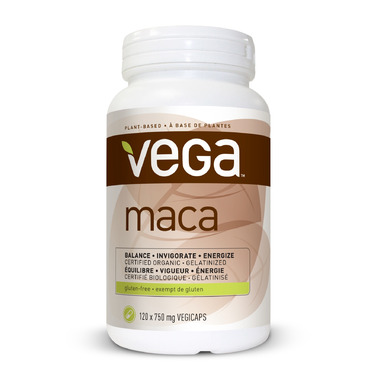 Balance, invigorate and energize with Vega Maca. Ancient, native Peruvians used maca root for thousands of years as both a food and a tonic. They believed maca increased energy and stamina.
Also known as Peruvian ginseng, maca shows great potential as an adaptogen, according to foremost maca researchers; this adaptogenic potential may account for the balancing, energizing and stress-reducing effects reported by some maca users. You can use Vega Maca to:
Promote vitality
Contribute to a feeling of overall well-being
Maintain good health
Provide antioxidant support
Certified organic, traditionally grown in the Andean highlands and sustainably harvested in partnership with Peruvian farmers, premium Vega Maca is produced using a proprietary heat extrusion process called gelatinization to improve absorption and concentrate the active micronutrients within.
Recommended Dose (adults):
Take 2 to 4 capsules daily with meals or as recommended by a health care practitioner. Keep in cool, dry place with lid tightly closed. Do not refrigerate.

Non-Medicinal Ingredients:
Microcrystalline cellulose, magnesium stearate.


Marmatei:
more than a year ago
I ordered Maca and Black Cohosh as I was experiencing menopausal symptoms: horrible mood swings, low energy, hot flashes. I think the combination of the two was most effective for me. My mood swings suddenly stabilized and I started feeling more like myself. The night sweats stopped although the occasional hot flash would still happen when under stress. Energy levels improved also and libido surfaced (a little) where there was previously none.
Arlene:
more than a year ago
Feeling like I either needed a new get busy attitude, which was not working thus far, or an boost of energy. Then Dr. Oz had a segment with info how "Maca" will help with this issue. So, I ordered from Well.ca. Within one week, I could definately tell the difference, and it's just getting better and better every day. I'm taking one capsule in the morning with my breaky, and no digestive issues because of IBS, and no heart palpitations or anything like that. I would highly recommend.
Page
1