Vibrant Health Green Vibrance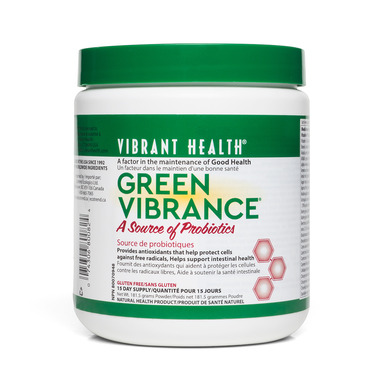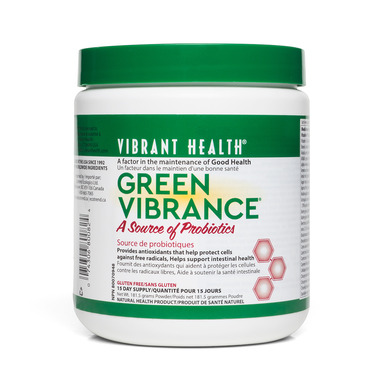 Vibrant Health Green Vibrance
Vibrance can be described as the combined vitality of each cell in the body. Green Vibrance provides trace nutrients that help each cell function at peak efficiency. When we push each cell toward peak efficiency through diet and supplementation, the result may be increased energy and endurance, greater clarity of thought, more robust immunity, and a shift in all bodily functions toward the ideal.


Ingredients:
Certified organic Barley grass and juice powder
Certified organic Oat grass and juice juice powder
Certified organic Wheat grass and juice powder
Certified organic Kamut grass juice powder
Certified organic Spirulina powder
Chlorella ( pharmaceutical grade) (Korea)
Certified organic Beet juice powder
Certified organic, de-oiled Flax seed concentrate
Certified organic Acerola berry juice powder
Certified organic Parsley
Certified organic Carrot root powder
Certified organic Spinach
Certified organic Alfalfa sprout powder
Certified organic Broccoli sprout powder
Certified organic Kale sprout powder
Freeze dried Green Bean powder
Freeze dried Zucchini powder
Certified organic Rockweed (sea vegetable)
Caution:

If you are pregnant, planning to become pregnant, breast feeding, taking any prescription medication, or have a medical condition, consult your physician or healthcare professional before taking this product. Do not exceed recommended dosage. CAUTION: Contains oxygen and moisture absorbing packets. Do not eat. Do not place packets in blender. Proper Care and Storage Store Green Vibrance in your freezer (best) or refrigerator (good) after opening. Keep out of reach of children.

Please be advised that Well.ca follows manufacturer guidelines for storing & shipping probiotics.